Summary
This article will show you how to share and play Sptofiy music on your discord channel while playing games. In addition, it will also teach you how to download Spoitfy tracks to local drive and then share with others.
"Is it possible to play Spotify music in a Discord channel while gaming? I want to invite my friends to listen along with me."
For most gamers, there is nothing better than listening to their idol music while playing games on the discord channel. Do you want to share and play Spotify music on your Discord? Fortunately, Spotify and Discord have established a partnership to help gamers enjoy Spotify music while playing games, which means you can add and share Spotify music with friends via Discord app. How to enjoy Spotify music on the Discord? Check out this post, here you will explore how to play Sptofiy songs/playlist on Discord channel while playing games.
Part 1. How to Play and Share Spotify Music on Discord
If you have joined the Spotify Premium plan, then you can play Spotify music on your discord channel, and share the music to the friends.
Way 1. How to Play Spotify Music on Your Discord?
Step 1. Launch Discord on your device and log in your discord account. Then navigate to "Settings", and select "Connections", click on the "Spotify" logo.
Step 2. Log in to your Spotify Premium account. After the connection is successful, you will see your Spotify username in "Settings", and can you choose to display the music you are listening to on your profile or status.
Step 3. Now open Spotify app and start listening to the music.
Way 2. How to Share Spotify Music on Your Discord?
It will be so much fun to share Spotify music on Discord, especially when you are playing games. You can invite your friends or family to enjoy the music you are listening on Discord. Here are the simple steps about how to share Spotify music to your friends on Discord.
Step 1. Click on "+" icon in the text box to invite your friends to listen to the music you are listening to.
Step 2. Before sending the invitation message to your friends, you can preview it and add comments if necessary.
Step 3. Once your friend receives the invitation message, he can click the "Join" icon and listen to your music.
Step 4. After that, you will be able to see which friends are listening to the same Spotify song with you at the bottom left of the app.
Part 2. Download Spotify Music for Playback via Discord
With Spotify premium and Spotify app, you can play and share Spotify music to friends on Discord. If you want to share Spotify music with people who don't have a Spotify account and don't have the Spotify client installed, you can save Spotify music as local files. Therefore, you can share the Spotify tracks to others via email, or upload them to iTunes, Google Drive. etc.
TunesBank Spotify Music Converter is an awesome tool for Spotify free and premium users. It has the ability to download Spotify music as MP3, M4A, WAV, FLAC audio files with keeping original quality. Also, users can upload the converted Spotify songs to iTunes, Google Drive, One Drive, etc., or transfer them to any device for offline playback. What's more, you can upload & share the downloaded Spotify songs to others or burn Spotify music to CD.
Guide: How to Download Spotify Music without Premium and Share with Others?
Step 1. Launch TunesBank Spotify Music Converter
After installation, launch TunesBank Spotify Music Converter on Mac or Windows computer, and Spotify app will run with it.
Step 2. Add Spotify Songs to the Program
Here you have two ways to add Spotify tracks to TunesBank.
#1 Drag and drop the songs, albums, artists or playlists from Spotify to the window of TunesBank.
#2 Copy Spotify playlist, songs or album link, then paste the link into the search bar of TunesBank, and tap "Add File". Then the program will analyze the URL immediately.
Step 3. Set Output Settings
Move to the upper right corner of the interface, you can select MP3 format or M4A format for all added songs in the "Convert all files to:" option.
Click "Preferences" menu, then it will pop up a small window, you can adjust the output settings like channels, bitrate, or samplerate for your needs.
Step 4. Start to Download Spotify Music
Simply click on the "Convert All" button to save Spotify music as MP3 or M4A files to the hard drive.
When finished, please go to the "Finished" section to view the downloaded Spotify tracks.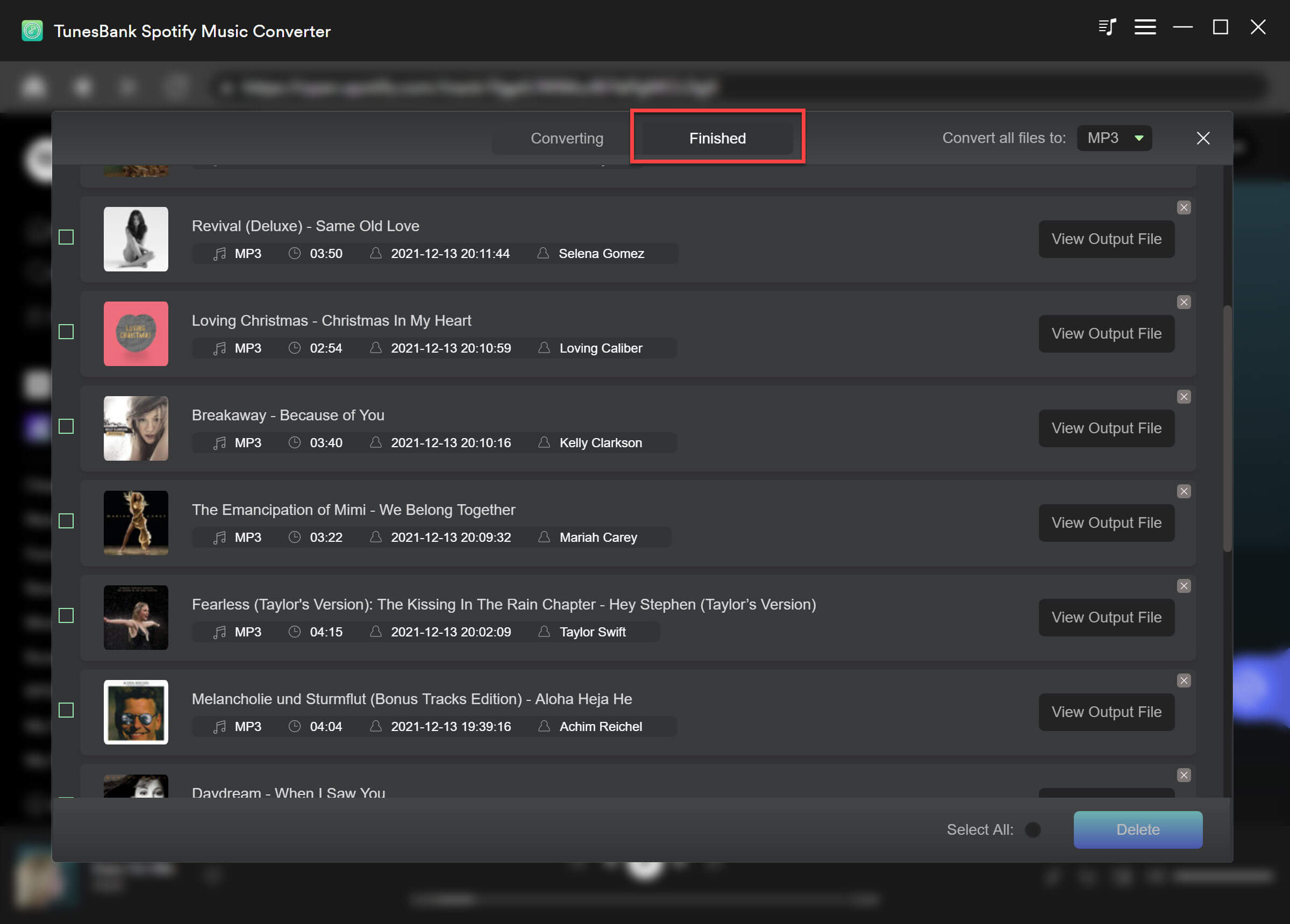 Video Guide: How to Download and Convert Spotify Music to MP3?
Final Words
Without Spotify app or premium subscription, you can't listen to spotify music on Discord. Amazingly, TunesBank Spotify Music Converter can help you convert and save Spotify music to local drive. Now you can share them to your friends or family via email, upload them to One Drive, Google Drive, Cloud Drive, etc. Also, you can copy them to MP3 player, iPod nano, or even burn them to a CD!
Play Spotify Music on Discord