Summary
Since Spotify music comes with DRM protection, you can't burn a CD from Spotify downloads directly. This tutorial will guide you to convert Spotify music to WAV/MP3 files, so that you could burn your favorite Spotify songs, album & playlists into a CD using the iTunes or Windows Media Player.
Question: "Is it possible to burn playlist to CD on iTunes? How to burn CD from Spotify for playing on my car? Please help."
Can you burn Spotify music to CD? No, you can't. Spotify allows its Premium subscribers to download Spotify music for offline listening, but it does't lets you burn CDs from Spotify downloads. Because it is generally known that Spotify music can only be accessed and played within the Spotify app or web player – they cannot be transferred for use on other apps, players and devices, or copied onto CDs. But don't worry, this is not the end of the story. If you want to burn a CD from Spotify for listening in your car or at home, or backup, just follow this particular guide. This article is written to help you burn Spotify music to CD. In this article, we will guide you how to download Spotify Music to local computers and burn it to a music CD using the Windows Media Player or iTunes.
Like most streaming music service, Spotify also takes some actions to protect its music media contents, which is the main reason for the failure to burn music from Spotify to a CD. Plus, when creating an audio CD, the best source format to use is a WAV file and then an MP3 file. Therefore, in order to burn music to CD from Spotify, you need to remove the DRM from Spotify music first and convert Spotify music to WAV or MP3 format, which is exactly where TunesBank Spotify Music Converter comes in handy.
Burn CDs from Spotify – Tools Required
TunesBank Spotify Music Converter is a professional Spotify music converter and Spotify DRM removal tool. It not only can help users strip DRM protection from Spotify music, but also enables users to download and convert Spotify songs, playlists to DRM-free MP3, WAV, M4A, FLAC audio files. With no need to install the Spotify apps, it is able to download Spotify music based on the Spotify web player. 5X speed and lossless output audio quality are also its highlights.
With the help of this smart tool, you can easily save Spotify songs as local files and burn Spotify songs, playlists into CDs. In addition, you may also transfer Spotify songs to any MP3 player, iPods, smartphone, USB drive, SD card, and more devices for offline playback.
Full Guide to Burn a CD from Spotify with TunesBank
Preparation:
· A blank CD.
· A computer with cd/dvd drive built in.
· TunesBank Spotify Music Converter.
· iTunes, Windows Media Player or VLC Media Player.
Please download and install TunesBank Spotify Music Converter for Windows or Mac in advance. Here we will take Windows as example. Currently, TunesBank Spotify Music Converter offers MP3, M4A, WAV and FLAC format.
Step 1. Launch TunesBank Spotify Music Converter
Open the TunesBank program on Windows, click "Open the web player" and login to your Spotify account.
You can login either Free or Premium account!
Step 2. Add Spotify Music to TunesBank
Next, you will enter the Spotify web player and see your music library. Just drag any song or playlist to the "+" icon.
Then check the songs that you'd like to burn to CD, or click "Select All:" at the bottom.
Step 3. Choose WAV Format for Spotify Music
In this step, you need to set the output format for all selected Spotify songs. Well, WAV is the closest lossless audio format to the quality of CD. So you can pick WAV format from the "Convert all files to:" option.
Next, go to the menu bar and choose "Preferences" to customize other output settings, such as Output Format, Bitrate, Sample Rate, and Output Path. And you can change the language in the menu bar.
Step 4. Begin to Convert Spotify Music to WAV
Hit on the "Convert All" button to start converting all selected Spotify songs to WAV format.
After the conversion is completed, tap the "Finished" tab, and click the "View Output File" to find the well-converted Spotify music from the local drive.
Step 5. Burn Spotify WAV Files to CD on iTunes/Windows Media Player
Now it's time to burn your Spotify WAV songs into a CD. To burn WAV files to a CD, you can use iTunes or Windows Media Player.
Burn Spotify WAV Files to CD on iTunes:
1. Open iTunes on your PC or Mac. Go to "File" menu > "New" > "Playlist" and create a playlist.
2. Next, import the converted Spotify WAV files to the newly created playlist.
3. Then insert a blank CD into the disc drive of your PC.
4. Click the playlist and right click on it. Select "Burn Playlist to Disc".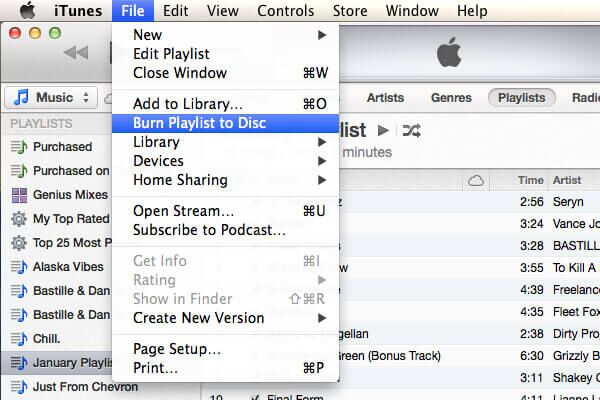 5. Choose the "Audio CD" in the format list. Finally, press on the "Burn" button.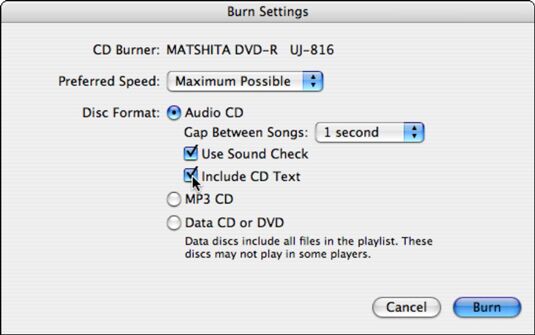 Burn Spotify WAV Files to CD on Windows Media Player:
1. Insert a blank CD into the disc drive of your Windows PC.
2. Open the Windows Media Player, and tap the the "Burn" button on the right.
3. Directly drag and drop the converted Spotify WAV songs into the burn list.
4. Click the menu in the Burn panel, then hit on the "Start burn" button.