Summary
If you want to play Spotify Music on MP3 players like iPod Nano, iPod Classic, iPod Shuffle, Sony Walkman, SanDisk and iRiver, the best way is downloading Spotify music as MP3 on computer, then transfer the downloaded songs to your MP3 player. Read this guide and learn how to download and play Spotify Music on any MP3 player freely.
"I just started using Spotify, and I want to enjoy Spotify music on MP3 player. Can I download Spotify songs to MP3 player directly? If not, is there any way to play Spotify music on MP3 player? Thank you."
"There is no Spotify app for iPod Nano, how do I download Spotify music to my iPod Nanno and Sony Walkman MP3 player? Please help."
Although it's more versatile to enjoy music on smart phones, many music lovers still want to enjoy music on MP3 players, because the MP3 players are more lightness and portability. Nowadays, many people like enjoying streaming music and want to download music to MP3 player. The Spotify is one of a streaming music servie like Apple Music, Amazon Music Unlimited, which is a "closed system" in order to ensure all tracks are played in its app only, and all downloaded songs are added DRM protection. However, the downloaded Spotify songs cannot be transfered to MP3 player. This means that a Spotify premium subscription only are able to access to Spotify's massive catalgoue, songs, playlist and albums, and download tracks for offline playback inside the Spotify applications, even the premium users haven't the ability to download Spotify tracks as mp3 format, or taking music out of the Spotify app.
It is really a pity that Spotify users can't enjoy Spotify music on MP3 players, like Sony Walkman, iPod Nano/Classic/Shuffle, SanDisk, etc. Here comes the question, How can I convert my Spotify music to MP3? Can you play Spotify songs on a MP3 player? Why I can't download Spotify music to MP3 player? How I can play Spotify music on iPod Nano?…
You may notice that, even if you can download Spotify playlists for offline playback with using Premium account, you can't directly transfer or sync the downloaded Spotify songs to an MP3 player or other device. This is because Spotify is a streaming music service, all Spotify tracks are under DRM copy protection. Spotify is only available on Internet connected devices that can run the Spotify application, such as Windows, Mac, iPhone, iPad, iPod Touch (6th generation or above) and Android device. Unfortunately, all MP3 players (iPod nano/classic/classic included) doesn't support the Spotify Music service. Be that as it may, you can still play your favorite songs on MP3 player after converting Spotify to MP3 format. To enjoy Spotify music on any MP3 player, you need to download and convert Spotify music to MP3, let's learn the Spotify to MP3 conversion solution.
It's a wonderful experience to offline enjoy Spotify music on MP3 player without the Spotify app installed, you can use a third-party tool to convert Spotify songs into common formats, such as MP3, M4A, etc. After that, you can copy the unprotected Spotify tracks to your MP3 player for offline listening. Keep reading, here we will introduce the best Spotify to MP3 converter tool to convert Spotify songs(music), playlist and albums to MP3 format, helping you enjoy Spotify music on any MP3 player. In addition, we also listed the top 5 best Spotify MP3 Players for you enjoy your favorite songs easily.
How to Download Spotify Music to MP3 Player?
If you want to download songs, playlist and albums from Spotify to MP3 player for listening anywhere any anytime you want, below tools you will need.
A MP3 Player – such as Sony Walkman, iPod nano, which used to store and play converted Spotify songs.
Spotify account – Either free or premium Spotify account.
A computer – Windows PC or Mac computer with Spotify app installation.
Spotify Music Converter – Used to download and convert Spotify music to MP3/M4A format.
Tuxera Microsoft NTFS for Mac – If you use Mac computer, you need the help of this app to copy the MP3 files to your MP3 player.
iTunes or iOS Transfer – Used to sync the converted Spotify songs to iPod nano or other iOS devices.
TunesBank Spotify Music Converter is a professional-grade music to converter for Spotify, which is specially designed for Spotify users to break the DRM protection from Spotify and convert Spotify contents, including tracks, albums, artists, playlists, audiobooks, and podcasts to DRM-free audio files. No matter your are Spotify Free or Premium users, with this tool, you're able to convert Spotify songs to MP3, M4A, FLAC and WAV format lossless. TunesBank uses advanced conversion technology, it able to convert Spotify files to MP3 with up to 5X faster speed. In addition, it's also famous for its lossless converting quality, and all the ID3 tags, metadata will be well kept in output MP3/M4A files. In this ways, you can easily import Spotify music to MP3 player for enjoyment!
Key Features of TunesBank Spotify Music Converter:
Unlock DRM from Spotify for playback on MP3 players.
Convert Spotify music/ playlist to MP3, M4A, FLAC, WAV at 5X speed.
Keep original quality, ID3 tags and metadata after conversion.
Save Spotify music in excellent audio quality at up to 320kbps.
Transfer Spotify tracks to any device for offline enjoying.
Enjoy Spotify songs on MP3 player anytime, anywhere.
Next, the article content will be divided into 2 parts. The first part is to convert Spotify songs into MP3 or M4A format compatible with MP3 players through TunesBank Spotify Music Converter. The second part, copy the converted Spotify MP3 songs to the MP3 player! Please make sure you have installed Spotify app on your desktop.
Let's teach you the most easiest method to enjoy Spotify music on MP3 players, the most important thing you need to do is to download and convert Spotify music to MP3 with TunesBank Spotify Music Converter, and then transfer the downloaded MP3s to your MP3 player.
Part 1: How to Convert Spotify Music to MP3
Step 1. Launch TunesBank Spotify Music Converter on Computer
Get TunesBank Spotify Music Converter downloaded on your MacOS or Windows system. After installation, launch the program, and you will see its simple interface, no any ads. Meanwhile, Spotify app run with it automatically!
Step 2. Import Spotify Tracks to TunesBank's Interface
TunesBank Spotify Music Converter offers two ways to add the songs from Spotify to its interface.
#1 Directly drag and drop songs, playlists or albums form Spotify app to its interface.
#2 Or copy the Spotify song/playlist/album/artist link, then paste the music URL to TunesBank's interface, and click "Add File". Then it will automatically analyze the URL and loads the tracks from Spotify.
Step 3. Select MP3 or M4A Format
As you can see, you can select different format for each song in "Output Format:" option. Or tab "Convert all files to:" in the upper right corner, pick MP3 or MP4 for all tracks.
Tips: Currently, the Mac version only supports MP3, M4A and FLAC, while the Windows version supports MP3, M4A, FLAC and WAV formats. TunesBank's technical team will do their best to develop more available output formats.
Step 4. Convert Spotify Songs to MP3 for MP3 Players
After completing the above settings, click the "Convert All" button to start converting Spotify music to MP3 or M4A with keeping original audio quality and I3D tags.
After conversion, click the "Finished" and click "View Output Files" to quickly locate the Spotify MP3/M4Asongs.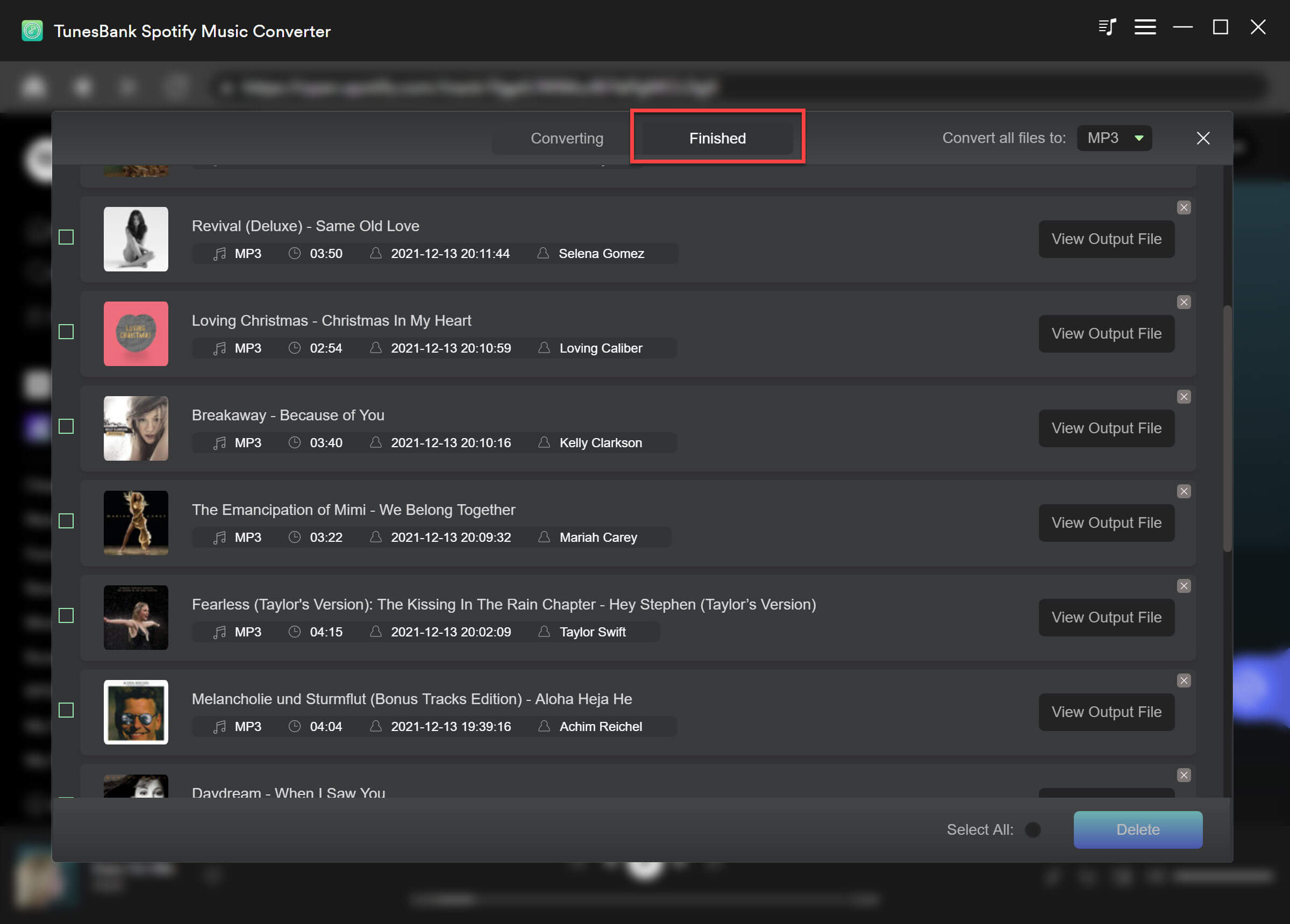 Download Spotify Music Converter for Windows and Mac:
Part 2: Transfer the Converted Spotify Songs to MP3 Player for Enjoying
Great, you got unprotected Spotify songs on your local drive, now it's time to move them to your MP3 player on PC. You can refer to the following steps.
For Generic MP3 Plays like Sony Walkman, SanDisk, Microsoft Zune, iRiver, Activo CT10, FiiO M11/M15, etc.
Step 1. Use the appropriate USB cable to connect the MP3 player to the PC. When the computer recognizes the MP3 player, double-click your MP3 player device in the file explorer.
Step 2. Open the folder where the converted Spotify MP3 files are saved, and then drag and drop the MP3 files directly into the MP3 player.
Step 3. Once finished, safely disconnect the MP3 player.
For Apple MP3 player, such as iPod Touch, iPod Shuffle, iPod Nano, iPod Classic, iPhone, iPad, etc.
Step 1. Open the latest iTunes app on your PC, click "Add" > "Add Folder to Library" to import the converted Spotify MP3 songs to your iTunes library.
Step 2. Connect your iPod to computer using USB cable, then find your iPod icon to load the information of your iPod model.
Step 3. Click "Music" in the left panel, then click "Sync Music" > "selected playlists, artists, albums, and genres". Then select "Recently added" under the "Playlists". Finally, press the "Apply" button, and Spotify tracks will be automatically synced to your iPod.
Part 3. 5 Best MP3 Players to Play Spotify Music(Recommended)
After converting Spotify music to MP3, you're able to enjoy the downloaded MP3s on any MP3 player. In this part, we also collected some popular Spotify MP3 players for you, you can pick the one you like. If you don't want to give up your old MP3 player but still expect to enjoy Spotify songs on the MP3 player, we recommend that you can use the TunesBank Spotify Music Converter to convert your Spotify music and playlists to MP3 audio for the MP3 player.
For Mac users, you need to install Tuxera Microsoft NTFS for Mac on your Mac computer, then directly copy the converted Spotify songs to the MP3 player.
1. Mighty Vibe
It is a difficult task to find a compatible Spotify MP3 Player. Mighty is such a 3 player compatible with Spotify. Mighty Vibe is the ultimate fitness tool for Spotify music and Amazon music lovers, which allows you to play Spotify and Amazon Music playlists without a phone. You can refer to this guide to learn How to Listen to Spotify Music on Mighty Vibe.
2. iPod Touch
If you are a big fan of Apple devices, iPod Touch is a good option. We can't play Spotify music on old iPod Nano, Shuffle, Classic or Touch, since they have no network compatibility. Currently, Spotify app is available on iPod Touch 6th, iPod Touch 7th, iPod Touch 8th or above running iOS 10 or higher. You can directly instal Spotify app from App store, and stream Spotify music online.
3. Sony Walkman
Many of us prefer to listen to Spotify music on Sony Walkman MP3 players. However, only Sony Walkman players of the NWZ-A, NW-ZX, NW-ZX507 or A-100 series support the Spotify application. You can choose the appropriate model according to your needs. Read on How to Play Spotify Music on Sony Walkman.
4. Samsung Gear S3
Samsung Gear S3 is a smart watch that lets you receive texts, emails, and alerts via Bluetooth without your phone. What's more, Samsung Gear S3 also supports Spotify app. For Spotify Premium users, you can even download Spotify music on Samsung Gear S3 for offline listening on the go.
5. Fitbit
Playing music from Spotify on Fitbit is now a new tend. If you have a Spotify Premium account, you can store and play hours of your favorite Spotify songs and podcasts on your wrist. Currently, you can use Spotify on Fitbit Versa, Fitbit Versa 2, Fitbit Versa Lite, or Fitbit Ionic, and other Fitbit smart watches.
The Bottom Line
We all want to play Spotiy music on MP3 Player. However, most MP3 players are incompatible with Spotify. By converting DRM-ed Spotify songs, playlist to MP3 files with TunesBank Spotify Music Converter, you can transfer and enjoy all your favorite Spotify music on any MP3 player without connecting to the Internet, which is ideal on airplane, subway, train and places where reliable mobile Internet access is not possible. Similarly, you can also transfer the Spotify MP3 songs to your iPhone, Android, PSP, Xbox, or burn them to a CD in iTunes!
Play Spotify Music on MP3 Player