Summary
What is the best MP3 player for listening to Audible audiobooks? Here this post lists the top 6 MP3 players for Audible books, and shows you how to enjoy Audible Audiobooks on any MP3 player, like Sony Walkman, iPods, Sandisks, etc.
MP3 player is not only a good portable device to play music, but also a smart device listen to audiobooks. However, not all MP3 players are compatible with Audible books. What is the best MP3 Player for Audible? Here we will list the top 6 MP3 Players for Audible Audiobooks. By comparing their battery life, file format compatibility, portability, storage capacity, audio quality, bookmark function, in order to help you choose the most suitable MP3 player! In addition, we will show your an easy way to convert Audible Audiobooks to MP3 format so that you can freely enjoy Audible books on any MP3 players, iPods, PSP, mobile devices, etc.
Part 1. Tips for Choosing MP3 Player for Audible Audiobooks
Battery Life
For audiobook files, the duration is longer than music files, some even as long as 50 hours. Therefore, an MP3 player with good battery life is essential, which enables you to listen to audiobooks without interrupting the power supply. Imagine that when you are listening to audiobooks outdoors, but the MP3 player is out of power, which will affect your listening experience.
File Format Compatibility
An excellent MP3 player should have extensive compatibility and support multiple audio file formats, including MP3, M4A, AAC, FLAC, WAV, WMA, etc. However, it should be noted that all the audiobooks you download from Audible are in AA/AAX format with DRM encryption. To play all your Audible audiobooks on any MP3 player, you can use TunesBank Audible Audiobook Converter to convert Audible from AAX/AA to MP3, M4A and other universal formats.
Portability
Most people prefer MP3 players because of their portability. Compared with mobile devices, MP3 players are lighter and smaller, which allows you to put it in your pocket with ease. In this way, you can listen to audiobooks on the planes, subways, trains, etc. anywhere, anytime.
Storage Capacity
When selecting an MP3 player, the storage capacity of the device cannot be ignored. Some audio books are as long as several hours. In order to fully load multiple audiobooks, you should choose an MP3 device with 8GB or more. In addition, MP3 players are also a good place to store audio files, which can help you free up space on your mobile device or computer, etc.
Audio Quality
A perfect MP3 player should be able to automatically eliminate any harsh sound effects or noises and make the listening effect better. This is especially important for audiophiles who are looking for HiFi audiobooks with high audio sensitivity and lossless audio quality.
Bookmark Function
For those audiobooks that are several hours long, you may not be able to listen to them all at once. Then choose an MP3 player with bookmark function will be very convenient. By adding bookmarks, you can navigate to where the story was last placed, so you can continue the story without starting from the beginning.
Part 2. 6 best MP3 players compatible with Audible Audiobooks
1. SanDisk Sansa Clip Jam
SanDisk Sansa Clip Jam is very easy to use and has a battery life of up to 18 hours. Large capacity is also its attractiveness. It not only has 8GB of internal storage space, but also supports SD card expansion up to 32GB, so that you can save more audiobooks. In addition, it is also equipped with a large OLED display, you can easily browse and adjust any settings.
Price: $39.99
Pros:
Easy to use.
High sound quality.
Equipped with a large OLED display
Compatible with various audio formats.
Cons:
No Bluetooth or WiFi function.
No bookmarking feature.
2. Sony Walkman NW-E394
Excellent battery life makes it stand out in a series of Sony Walkman MP3 players.. Compared with other MP3 players, this portable MP3 tool allows you to listen to up to 50 hours of audiobooks or music. 8GB of memory is enough for you to put a lot of audiobooks. In addition, clear sound and easy-to-use interface are also supplements to this device.
Price: $79.99
Pros:
Easy to operate.
Very long battery life.
Clear sound quality.
Cons:
Its plastic shell is not very sturdy.
The external SD card is not supported.
3.iPod Touch 8th
The appearance of iPod Touch gradually replaced the old iPod Nano / Classic / Shuffle. iPod Touch 8th has up to 256GB of storage and can play up to 40 hours of audio and 8 hours of video. It is worth mentioning that it supports WiFi and Bluetooth connections, and you can log in to your Audible account on the iPod Touch at any time. In addition, it also has a large touch screen and a clear display.
Price: $199 for 32GB, $299 for 128GB, $399 for 256GB
Pros:
Run the iOS operating system.
Compatible with multiple formats.
Supports to play audios and videos, image, etc.
Large touch screen and clear display.
Has a huge storage capacity of 32GB-256GB.
Cons:
No recording function.
More Expensive than other MP3 players.
Only rely on iTunes to synchronize files.
4. Zune HD
Zune HD is also a good MP3 player from Audible Books. Clear high-quality audio and storage capacity of up to 32GB are one of its highlights. The built-in Bluetooth and WiFi functions allow you to play audiobooks or music online. Even better, without any bookmarks, it will automatically resume playback from where you stopped from each audiobook.
Price: $99.99 for 16GB, $348.89 for 32 GB
Pros:
Can play videos, audios, photos.
Has a huge storage capacity.
Has built-in Bluetooth and WiFi function.
Cons:
Expensive.
Only supports MP3, WMA, AAC audio formats.
5. AGPTEK Bluetooth MP3 Player
Stylish design, 16GB memory, extensive audio format compatibility, up to 45 hours of battery life and other features make it one of the top 6 MP3 players. Another user-friendly design is that it supports HiFi lossless sound quality, which would will helpful for any blind person to listen to the audiobooks.
Price: about $26.99
Pros:
Sensitive button, user-friendly design.
Compatible with various formats.
Has a Bluetooth connection.
Support HiFi lossless audio quality.
Supports VOR voice, FM Radio, voice recordings.
Cons:
There is no armband option.
It can sometimes confuse your audio books, especially book chapters.
6.KLANGTOP Digital Clip Music Player
KLANGTOP Digital Clip Music Player is a small MP3 tool specially designed for sports and music lovers. It is small in size, light in weight, with a wearable clip, and weighs only 22.5g. Although it has 8GB of storage space, it has an expansion slot that can support up to 32GB of memory cards. The battery can last 30 hours. It is a multifunctional device that integrates music player, recorder, FM radio, e-book reading, etc.
Price: $106.65
Pros:
Powerful functions.
Small size and light weight.
Has FM radio voice record function.
Support Bluetooth and USB connection.
Cons:
Plain design.
A little expensive.
Part 3. Convert Audible Books to MP3 for Playback on Any MP3 Players
As we mentioned above, all the downloaded Audible audiobooks are in AA or AAX format with DRM protection. To play Audible audiobooks on any MP3 player, you need to convert AA/AAX Audible books to MP3 format to be compatible with any MP3 player. Here you can turn to TunesBank Audible Audiobook Converter.
TunesBank Audible Audiobook Converter has the possibility to make Audible playback easier. It can not only remove Audible's DRM, but also convert Audible AA/AAX audiobooks to MP3, M4A, AC3, AIFF, AU, FLAC with 100% original quality kept. Compare with other audiobook converters, it enables you to convert audiobooks at up to 100X faster speed and supports batch conversion, saving your time! Even better, all the chapters, ID3 tags and matadata will be well kept in the output files, and you can even edit the title, album, artist, genre, etc. as you like.
In addition to converting Audible books, it also supports you to convert iTunes M4B audiobooks, Apple Music, iTunes purchased M4P music to common MP3, M4A, FLAC with lossless quality. In this way, you are able to enjoy Audible Audiobooks on any MP3 players, such as iPod Nano, iPod Shuffle, iPod Classic, iPod Touch, PSP, Zune, Creative Zen, Sony Walkman, Sandisks, iRiver, Kindle, Zune, etc., as well as iPhone, iPad, Android devices.
Steps to Convert and Transfer Audible Books to MP3 Players
Step 1. Add Downloaded Audible Audiobooks to iTunes
Launch iTunes program on your computer, then import the downloaded AA/AAX Audible files to iTunes library. Authorize Audible account, and then exit iTunes app.
Step 2. Run TunesBank Audible Audiobook Converter
Download and install TunesBank Audible Audiobook Converter on your Mac or PC. Then launch TunesBank program, and iTunes app will be opened automatically. At the same time, it will automatically the audiobooks, music, music videos from iTunes.
Step 3. Select Audible Audiobook to Convert
Click "Audible Audiobooks" or "Audiobook" in the left panel, and then all audiobooks will be displayed on the right. Select the audiobooks to be converted by checking the checkboxes.
Step 4. Adjust Output Settings
Now, move the mouse to the bottom of the interface, select MP3 in the "Output Quality" option, and adjust the Output Quality, Bitrate, Sample Rate, Channels, etc. as needer.
Tips: To edit the ID tags or metadata, please click "Metadata" otpion.
Step 5. Convert Audible Audiobooks to MP3 Players
After the above settings, click the "Convert" button to start to convert DRM-locked Audible audiobooks to unprotected MP3 audio files.
After conversion, please go to "Finished" option, click "View Output File" to locate the converted Audible MP3 files.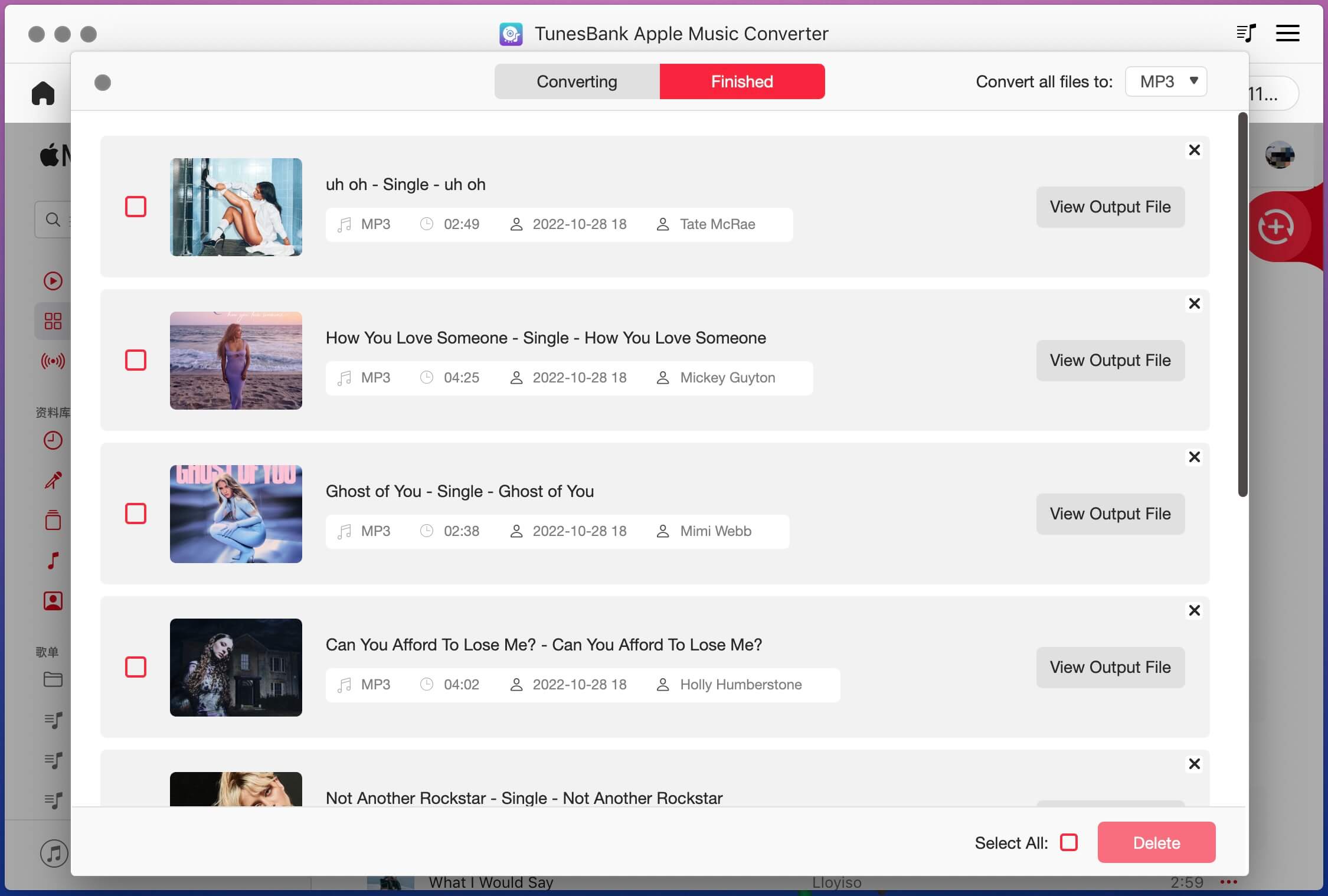 Step 6. Transfer Converted Audible Books to Any MP3 Players
1)Transfer the Converted Audible Books to Generic MP3 Players
To move the converted Audible files to most generic MP3 players like Sony Walkman, Sandisk MP3 player, Onkyo MP3 player, AGPtEK, Astell, FiiO X3, please connect your Sony Walkman to computer via USB cable. After connection successfully, open the folder of the MP3 player, then directly drag and drop the converted Audible MP3 files to the MP3 player. When finished, eject the MP3 player.
2)Transfer the Converted Audible Books to iPod Nano/Classic/Shuffle/Touch
Launch iTunes program on computer, and import the converted Audible MP3 files iTunes library, and then connect the iPod device to the computer via USB cable. Next, find the iPod icon and click on it. Click "Music" > "Sync Music", tap "Selected playlists, artists, albums, and genres.", then tap "Recently added" > "Apply".
Now you can freely enjoy your Audible books on any MP3 player anytime, anywhere, without the need to install Audible applications or the Internet!
Conclusion
The above are the best 6 MP3 players, each with its own characteristics and functions, there is always one suitable for you. However, not all MP3 players are compatible with Audible. In this case, you can rely on TunesBank Audible Audiobook Converter to convert your Audible Audiobook to MP3 format, so you can transfer Audible books to any MP3 player for offline enjoying! TunesBank Audible Audiobook Converter is specially for Mac and Windows users. It uses the most advanced technology to ensure the best quality and performance. It is worth trying!
Top 6 MP3 Players for Audible Audiobooks