Summary
Do you want to get free audiobooks from Audible? This article will show you best 3 ways to get free Audible books through Audible Free Trial, Audible Account, Audible Channels, and teach you how to save Audible audiobooks as local files forever.
Audible is the world's largest audiobook service. Although Audible is a paid service, if you know the right solution, you can download audiobooks from Audible for free. In this article, we will show you best 3 ways to get free audiobooks from Audible. In addition, you will get extra tips to save free Audible Audiobooks forever and enjoy them on any device without Audible app.
Part 1. Get Free Audible Audiobooks via Audible Free Trial
If you are a new Audible user, you can get a 30-day free trial from Audible. After the trial period ends, you need to cancel your subscription, otherwise the system will automatically charge you a monthly subscription fee (Audible Plus fee is $7.95/mon, Audible Premium Plus fee is $14.95/mon for 1 credit). You can refer to the detailed steps to get a 30-day free trial period, and then download free Audible audiobooks, such as best-selling books, new books, editorial selections, etc.
Step 1. Go to the Audible Free Trial page, please visit https://www.audible.com.au/ep/free-trial.
Step 2. Click "Get your free audiobook".
Step 3. It will take you to a new page, sign in with your Amazon account. If you don't have one, click "Create your Amazon account". Then follow the instructions on the screen. Your account must be bound to a valid credit card. It is currently not possible to use Amazon.com gift cards to start your Audible free trial.
Step 4. After logging in to your Audible account, click on the "Membership" column to pick the membership plan you want to try: Audible Plus / Audible Premium Plus, and go to the "Shopping Cart" page. Then, you should go to the next page to complete your credit card information and place an order.
Step 5. Now you can go to Audible's official website to get any audiobook for free. Next, add the audiobook to the shopping cart, and use the free credit obtained from the free trial membership to purchase the audiobook. You can then either play it via Audible or download it to your computer or mobile devices, etc.
Part 2. Download Free Audible Books Using Audible Account
For those who are new to Audible and don't know which audiobook to listen to, you can easily get free Audible books through Audible's website. What you need is a Audible or Amazon account. Follow the simple steps to download random audiobooks from Audible for free:
Step 1. Go to https://www.audible.com/ep/FreeListens on your browser, and sign in your Audible or Amazon account. For new user, you can create an Amazon account".
Step 2. In the page, you can find many free audiobooks it offers.
Step 3. Now you can buy the audiobook for free. Add the book to your library, then you can download it to your computer or mobile devices for offline listening.
Part 3. Stream Free Audible Books through Audible Channels
If you are a Amazon Prime member, you can access a selection of free audiobooks per month. In addition, Audible allows Amazon Prime members to stream or download short audio programs, podcasts, documentaries, comedy shows, shows, etc. on the Audible app or selected Fire devices. For non-subscribers, they can stream up to 30 minutes of content by visiting the channel. Please note that Amazon Prime members do not include Audible members. But you can get discounted prices for members. The cost of subscribing to Audible Channel alone is $4.95 per month. Follow the simple steps to set up Audible Channels to listen to free audiobooks.
Step 1. Launch the Audible app on your Fire, computer, or mobile devices.
Step 2. Click "Channels" in the left panel, and you will see a list of featured content from the opened window.
Step 3. Then you can open and follow the channel you want. To stream the audiobook, please click the "Play" button. To download the podcast, please click the "…" icon and then select "Download Item" to download them one by one.
Note: Even if you are a Amazon Prime member, you can only stream these books online. To download these books, you must purchase them in advanced.
Part 4. Extra Tips to Get Free Audible Audiobooks Forever
When the Audible Free Trial or Amazon Prime ends, you will not access to free audiobooks, including the downloaded Audible files. Because all the downloaded Audible audiobooks are in AAX or AA format with DRM protection. In other word, you don't actually own the audiobooks. So is there any way to save Audible Audiobooks forever? Yes, you can draw support from TunesBank Audible Audiobook Converter.
TunesBank Audible Audiobook Converter is a must-have tool which can help you save Audible books on computer forever and make Audible playable on any device. It not only lets you remove DRM from Audible, but also convert Audible AA/AAX audiobooks to MP3, M4A, AC3, AIFF, AU, FLAC at up to 100X faster speed. In addition, it will preserve the original audio quality, chapter, ID3 tags and metadata in the output files, and you can even customize the metadata for your preference. Even better, it can help you convert iTunes M4B audiobooks, iTunes purchased music and Apple Music to popular formats.
After that, all the converted Audible files will be saved on your computer forever, and you can also move them to any device for offline listening, such as MP3 players, iPod Nano, iPod Shuffle, iPod Classic, iPod Touch, Sony Walkman, Sandisks, PSP, Zune, iRiver, Kindle, iPhone, iPad, Android devices, etc.
Guide: How to Save Free Audible Audiobooks Forever
Step 1. Add Downloaded Audible Books to iTunes
Lanch iTunes program on your computer, then click "File" > "Add to Library" to import the downloaded AA/AAX Audible books. Then exit iTunes program.
Step 2. Run TunesBank Audible Audiobook Converter
Install and launch TunesBank Audible Audiobook Converter on your Mac or Windows PC. Then it will launch iTunes app automatically, and load the audiobooks, music, music videos from iTunes library.
Step 3. Select Audible Audiobooks
Tap on "Audiobook" or "Audible Audiobooks" in the left side, and then tick the checkbox to select the audiobooks you want to save.
Step 4. Customize Output Settings for Audible Books
In the bottom of the interface, you can customize the Codec, Output Format, Output Quality, Bitrate, Sample Rate, Channels, etc. of the output file. To play Audible Audiobooks on any devices, we'd recommend you choose MP3 format.
Step 5. Start Converting Audible Audiobooks
Simply press on "Convert" button to start converting Audible Audiobooks to MP3 format without losing any quality. The conversion speed is up to 100X super fast speed, just wait a few minutes.
After conversion, you can go to "Finished" section, click "View Output File" to locate the DRM-free Audible Audiobooks. Then you can copy the MP3 files to your MP3 player, iPod nano and any other device for offline listening!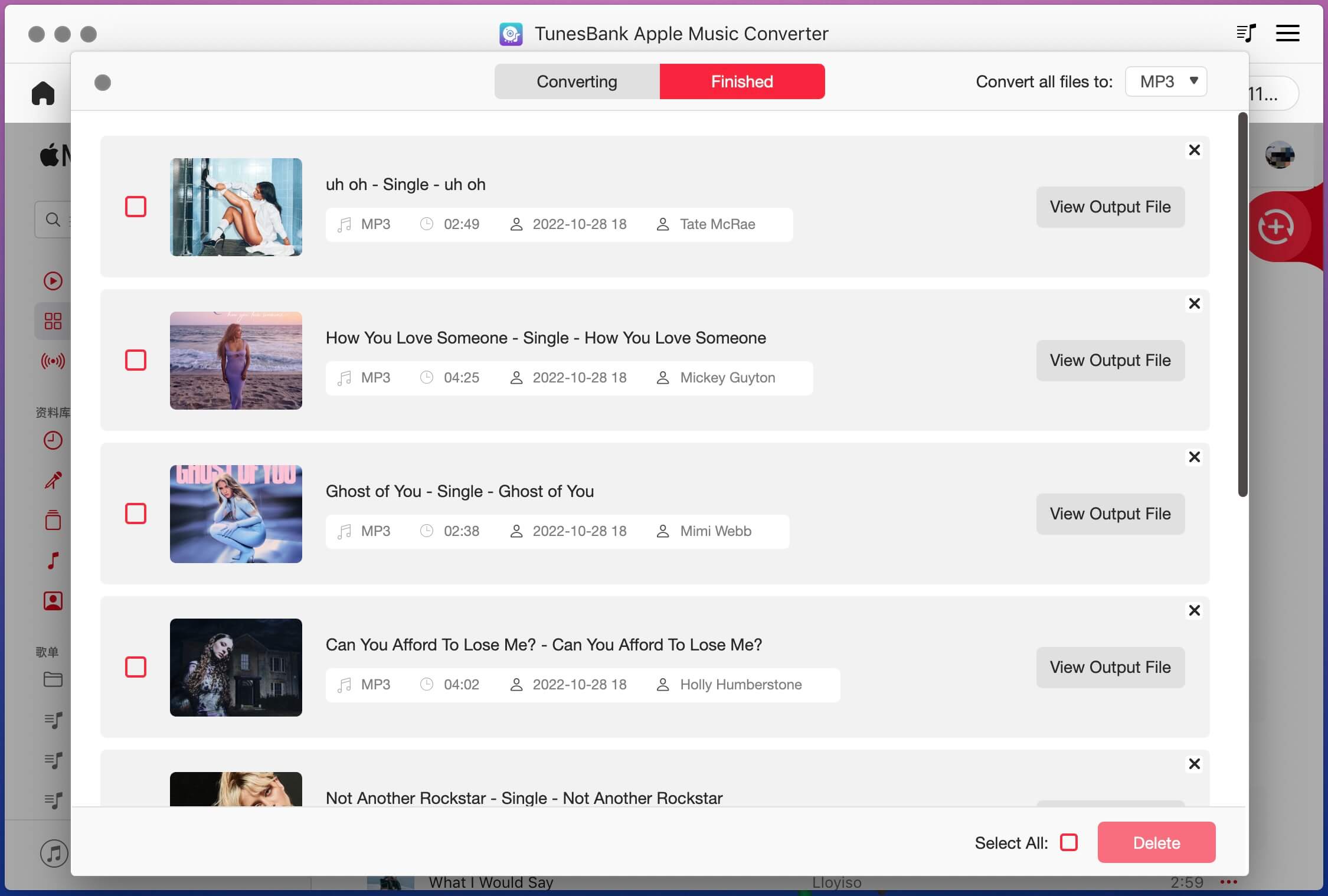 Conclusion
Now you have learn how to get free books on Audible through 3 easy ways. However, all the Audible audiobooks come with DRM protection, you can only play them on limit devices. To save Audible audiobooks forever and play Audible audiobook on non-audible-approved devices, you can use TunesBank Audible Audiobook Converter to convert Audible books to universal format like MP3, M4A, FLAC, etc. More importantly, it can maintain the original audio quality and all ID3 tags, and the conversion speed is as high as 100 times. It is worth trying!
Get Free Audiobooks from Audible