Summary
Do you want to know how to play Audible on Roku since the Audible app is not available on Roku? Read this post, we will show 2 ways to play Audible on Roku, play Audible by mirroring the mobile phone, or convert Audible file to Roku compatible format and play offline.
"I like using my TV to listen to audiobooks and I have a Roku TV. But I'm not sure if there's a way to listen to my audiobooks on Roku. Can anyone tell me how? Thanks for any advice."
"Can I play Audible on Roku? I have got wonderful Roku streaming box for my gift from my friend, but it seems that there is no Audible app for my new Roku. Is Audible app not available for Roku? If not, is there any other way that I play Audible audiobooks on Roku? My Roku has an USB port, can I access Audible audiobooks via this USB port?"
Roku is a diversity digital media streaming device, with Roku, you can stream music, audiobooks and videos from many popular global provider such as Disney, Pandora, Netflix, etc. For some of the Audible users, they might want to stream Audible audiobooks on Roku instead of using computer when they are doing work, relaxing and so on.
So is it possible to play Audible on Roku? Unfortunately, there is no Audible app for Roku yet, Audible is not in the compatible list, there is not a Audible channel or a compatible AA/AAX player for streaming Audible audiobook on Roku. Audible is trying so hard on making all devices compatible as possible as they can. If you want to play Audible on Roku without waiting so long till they are cooperated, this tutorial will be shown 2 alternative ways to play Audible on Roku.
Part 1. Audible Audio Books & Audio Format by Roku
Audible is probably the biggest audiobook producer all around the world, it has massive of audiobooks that offer to download with variety of categories. Audible audiobooks is in the audio format of AA/AAX, it is the special formats for preventing unauthorized sharing. Another way to say is that all downloaded Audible audiobooks are DRM protected, they can only be played on specific devices which only supports the Audible app.
Roku is a popular media streaming box, which makes it easier to stream media files on television to enhance your media experience. Here are the audio files that Roku fully compatible with, including MP3, WMA, AAC, FLAC, WAV, M4A, AIFF, and ACS.
Part 2. How to Play Audible on Roku by Mirroring the Mobile Phone
You can use your smartphone to listen to Audible audiobook even there is no Audible app can be found on Roku. There is a simple and useful way which is mirroring your mobile phone to Roku. This way is available on both Android phone or iPhone. We are providing the guide in the following, but before mirroring, there are 3 things you need to do.
1. Turn on your Roku device.
2. Connect your mobile phone and Roku device with the same Wi-Fi.
3. Make sure Roku is set to allows screen mirroring. You can go to Settings > Screen Mirroring > Screen Mirroring Mode > Always Allow.
https://www.tunesbank.com/wp-content/uploads/2023/01/allow-mirror-roku.jpg
For Android Users:
Step 1. Open the Settings app on your phone. Choose the Device Connection button.
Step 2. Choose the Cast button and toggle it on. You might be able to find the Cast Screen button from the notification bar.
Step 3. Select your Roku device. Then Play Audible audiobooks on your phone. Now you can enjoy Audible on Roku.
https://www.tunesbank.com/wp-content/uploads/2023/01/android-mirror-roku.jpg
For iOS Users:
Step 1. Open App Store and install the Mirror for Roku app. Open it and select your Roku device.
Step 2. Open the Mirror for the Roku channel on the Roku device.
Step 3. Select your Roku device. Tap the Start Mirroring button to start your mirroring.
https://www.tunesbank.com/wp-content/uploads/2023/01/ios-mirror-roku.jpg
For PC Users:
Step 1. Link your PC to the same Wi-Fi network as your Roku.
Step 2. Then start a browser on your computer and go to Audible's official website.
Step 3. Log in to your Audible premium account and search for any audiobook you like.
Step 4. Now, hit the Windows + K hot keys on your keyboard.
Step 5. Select your Roku device from the list of options.
https://www.tunesbank.com/wp-content/uploads/2023/01/cast-to-roku-on-windows.jpg
It is not very complicated to play Audible audiobooks on Roku by mirroring the mobile phone, but this method is not very stable, some users complain that they fail to mirror their mobile phone to Roku to play Audible, or there is crashing issue when they are in the middle of the streaming. So here comes a better way.
Part 3. How to Play Audible on Roku by Converting Audible Files to Roku Compatible Format
Since you can not use the Audible app on Roku, alternatively, you can convert the Audible files to Roku supported format. As we have mentioned above, Audible audiobook is in AA/AAX formats, you can play these file formats on Roku, so the best way is to change the format the Roku compatible with, such as MP3. So you need a professional Audible AA/AAX converter, which can not only convert AA/AAX audiobooks to MP3 and other formats that can be played by Roku, but also remove DRM form Audible audiobooks.
Tool Required – TunesBank Audible Converter
TunesBank Audible Converter is a professional AA/AAX converter which is capable to remove DRM from Audible audiobooks and convert DRM-protected AA/AAX to MP3 and other common format such as M4A and M4B lossless, so that you can play the converted Audible audiobooks on Roku and other unauthorized devices without any limitations. With the advanced converting technology, the program is able to convert Audible AA/AAX audiobooks without iTunes installation and Audible Authorization, there is no need to install the iTunes app and Audible account authorization, and you can just simply add audiobooks to TunesBank and few clicks to convert AA/AAX to MP3.
In addition, due to the long duration of an audiobook, TunesBank Audible Converter is able to convert Audible files at up to 100X faster speed, you can convert a 1 hour of audiobooks in less then 1 minute, which brings more benefits on time saving. What's more, the converted audiobook is kept 100% original quality and original parameters, such as codec, bit rate, channel, etc.
Amazing Feature of TunesBank Audible Converter
Remove DRM from Audible audiobooks.
Convert Audible AA/AAX to MP3, M4A, M4B, AAC, FLAC lossless.
Directly download Audible audiobooks to computer.
Without installing iTunes & Audible account authorization.
Batch conversion & 100X faster conversion speed.
Preserve ID3 tags and chapters and keep 100% original quality.
Play Audible audiobooks on Roku freely.
Listen to Audible audiobooks on MP3 player and any device freely.
Once you are familiar with the Amazing features above, it is time to convert Audible audiobook to MP3 for Roku.
Guide: How to Convert Audible AA/AAX Audiobook to MP3 for Roku
TunesBank Audible Converter can convert Audible audiobooks without installing iTunes and Audible account authorization. You just need to download the latest version of TunesBank Audible Converter and install it to your computer, then follow the steps.
Step 1. Download Audible AAX/AA Audiobooks to Computer
Download your purchased Audible audiobooks from Audible.com to your computer, all the downloaded files will be saved in AA/AAX formats, then launch TunesBank Audible Converter.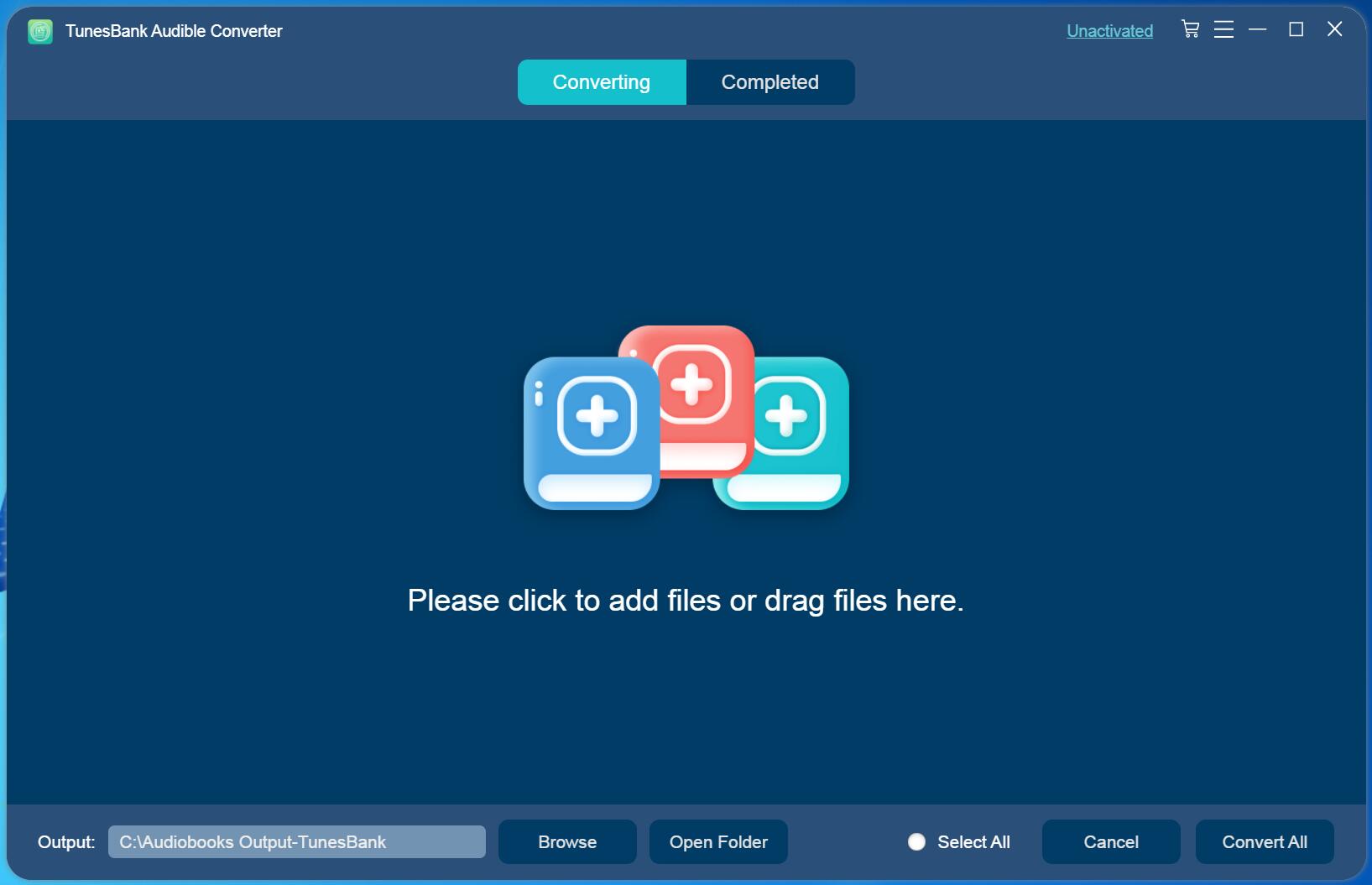 Step 2. Import Audible AAX/AA Audiobooks to TunesBank
You can import aduiobooks to TunesBank in 2 ways, you can directly drag and drop the downloaded AA/AAX files to TunesBank main interface.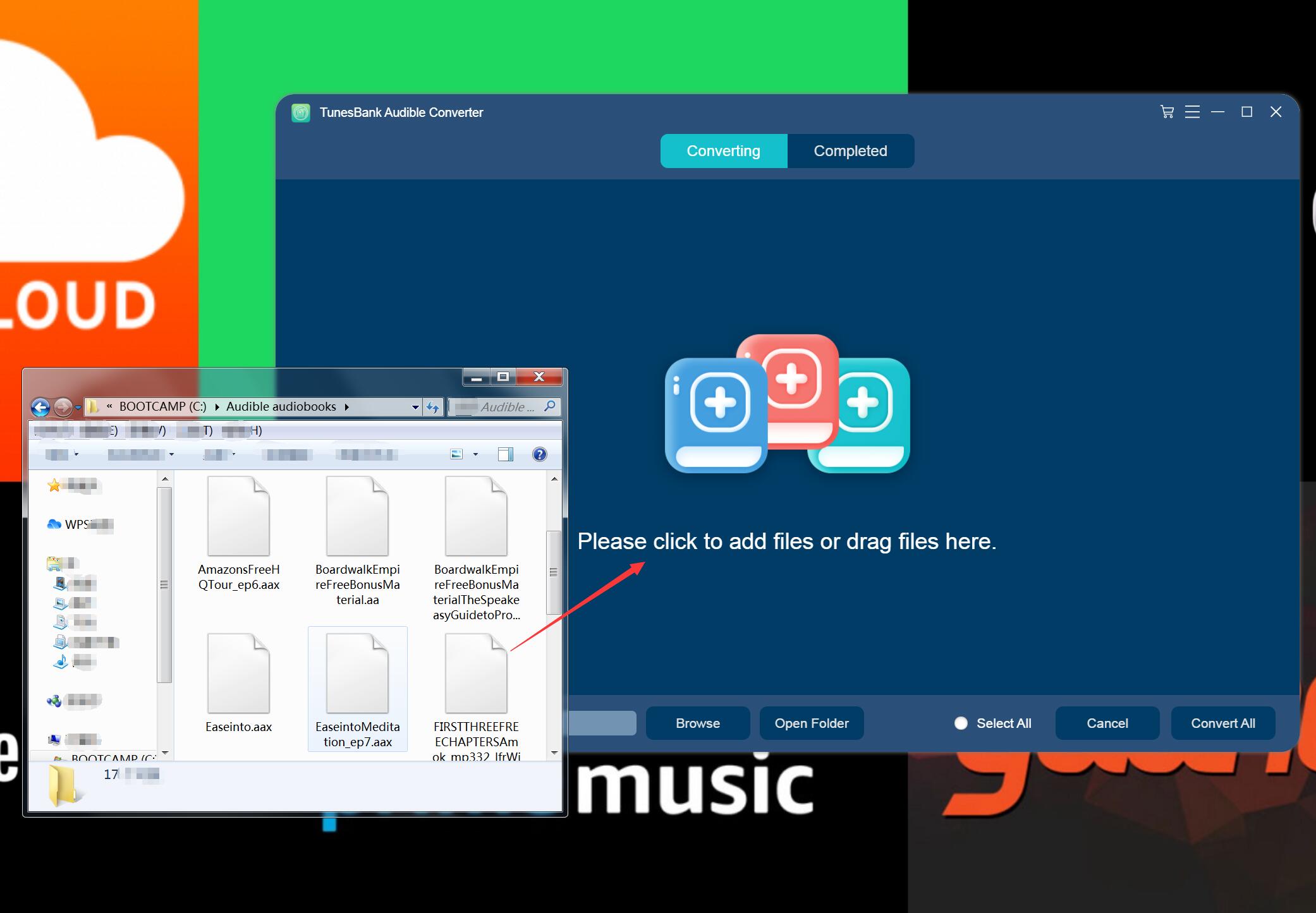 Or you can click 'Add File' on the main interface to add the AA/AAX audiobooks that you want to convert. You can also add as many Audible files as you like for batch conversion.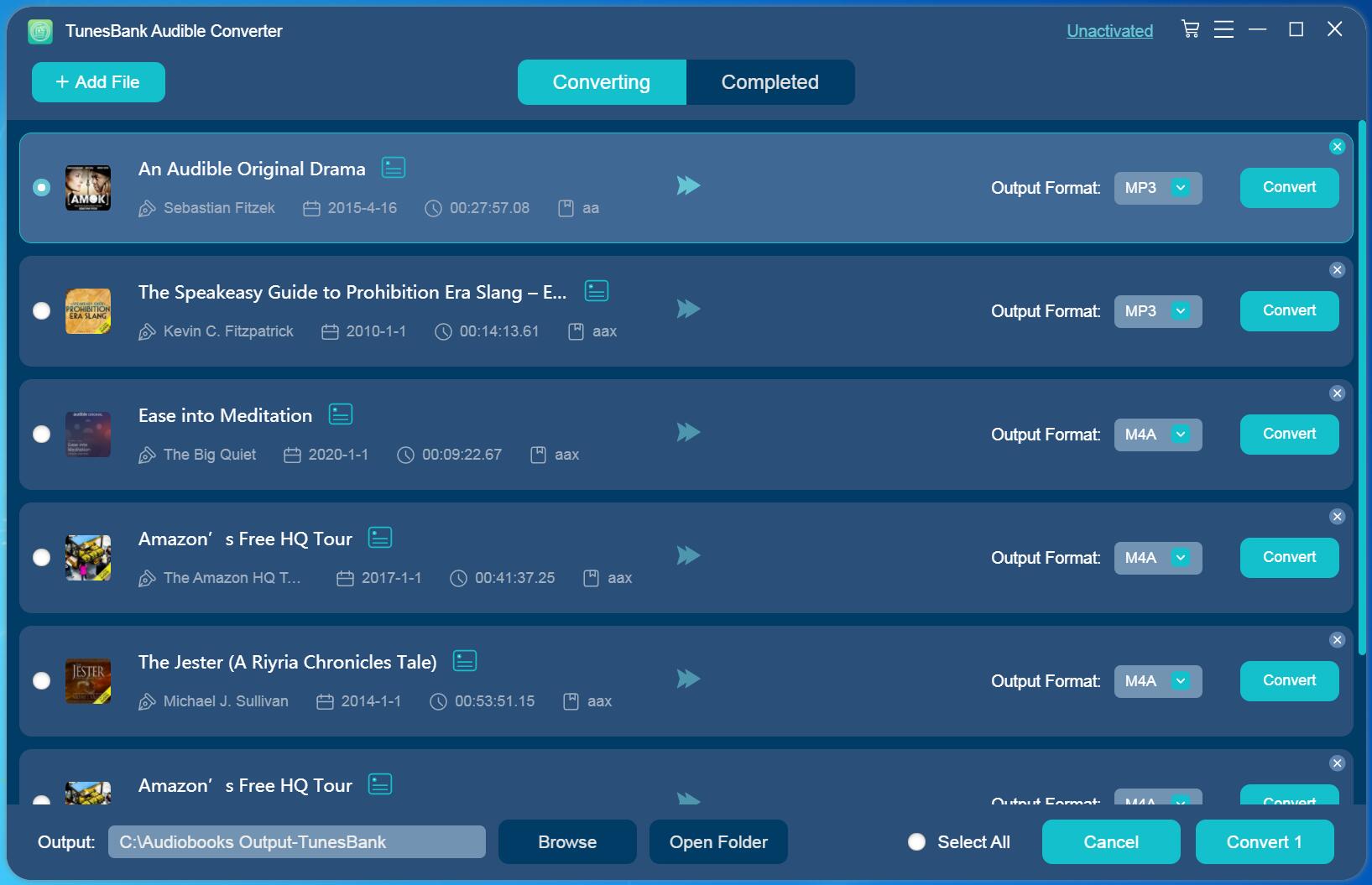 Step 3. Select Output Format
Once you have done adding Audible files to TunesBank software, you can select output format for the audiobooks. Unlike the other converters, you can select different format for each audiobook. There are various types of output audio formats you can choose, including MP3, WAV, M4A, FLAC, etc. Also you can also set the output path at the bottom left corner of the interface.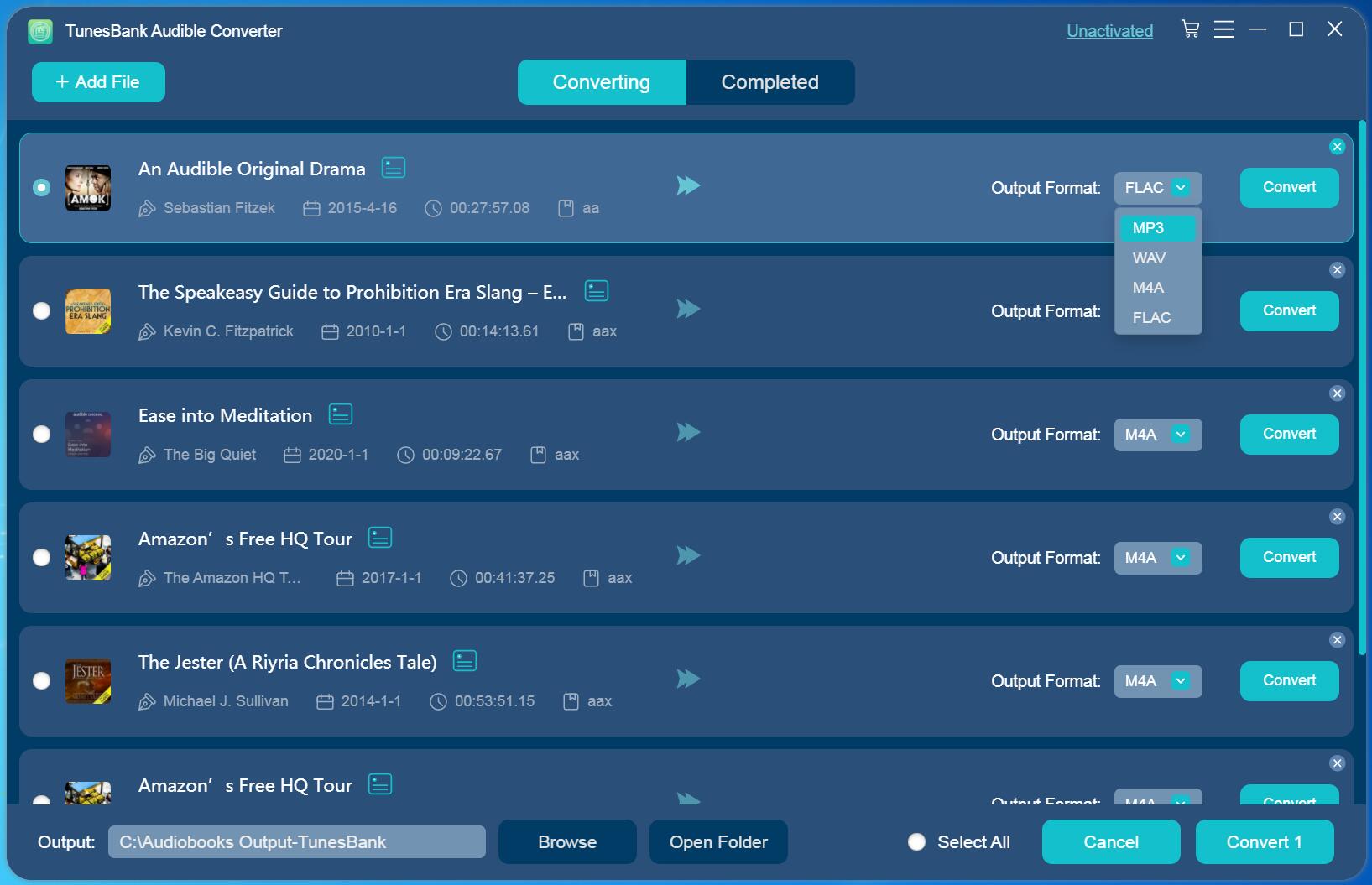 Step 4. Setup Output Preferences
You can also customize the output quality and other parameters, just click "Output Settings" form the settings menu on the upper right corner. In the preferences window, you can set Output Format, Sample Rate and Bitrate.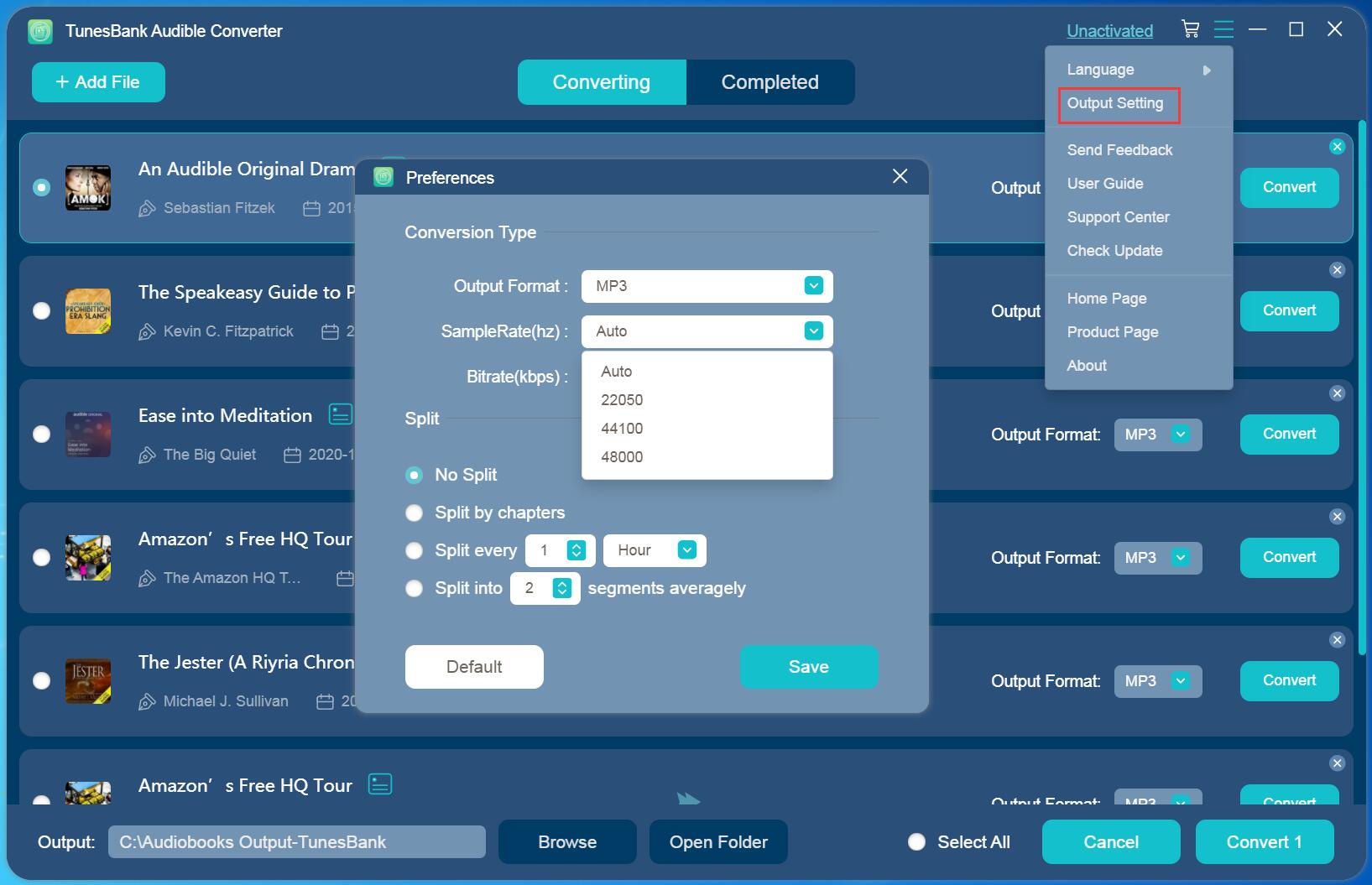 Step 5. Convert Audible AAX/AA Files to MP3
After you have done the above settings, click on the "Convert All" button to start converting AAX or AA audiobooks to MP3 audios format in high quality at 100X conversion speed. Then be a little bit patient to wait until the whole conversion is finished.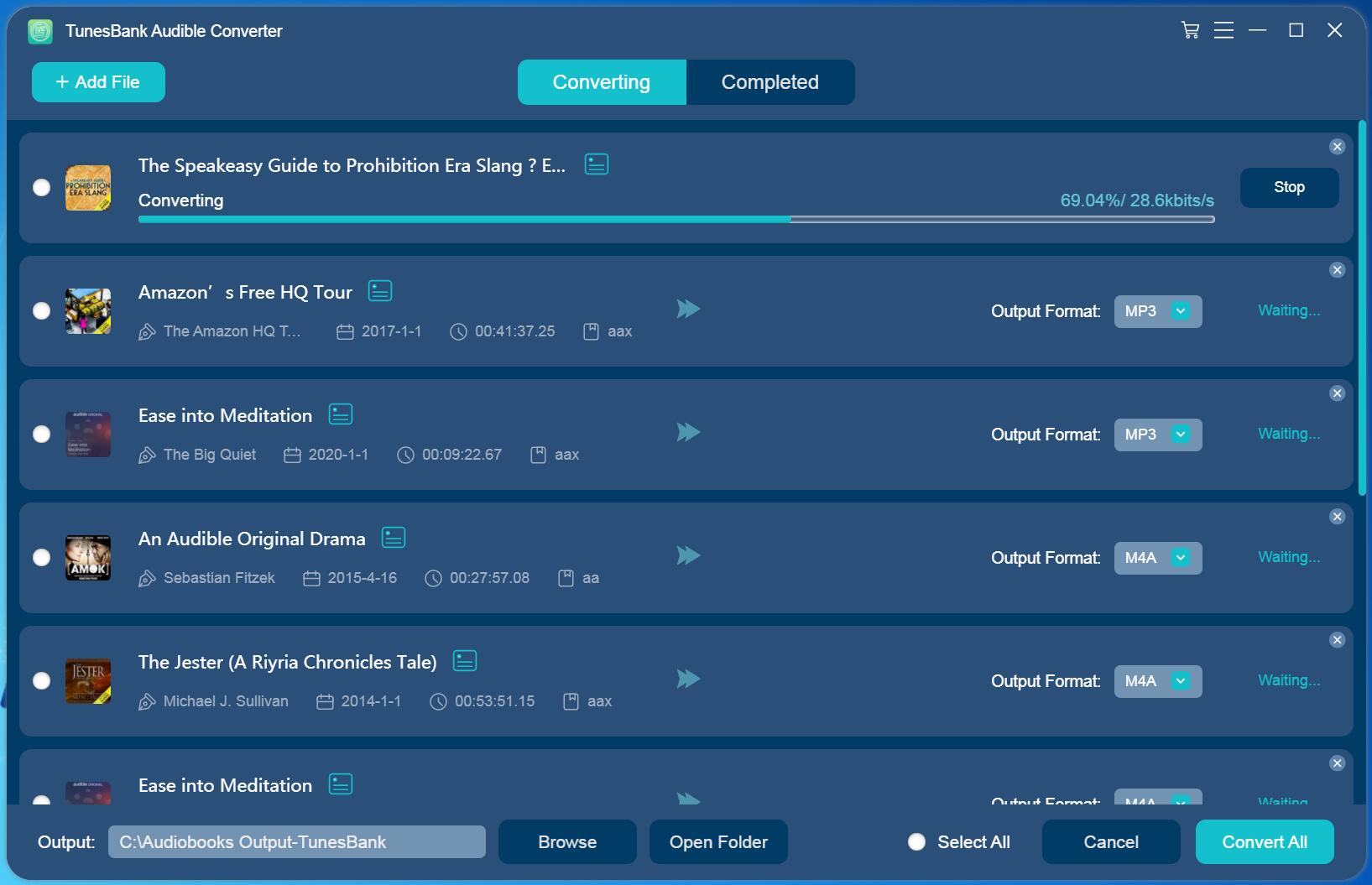 Step 6. View Converted Audible Files
Once completed, go to the "Completed" section to view all the conversion history. Then click "Open File" to view the converted Audible books. The output files can be kept the audiobook ID3 tags and information automatically after conversion.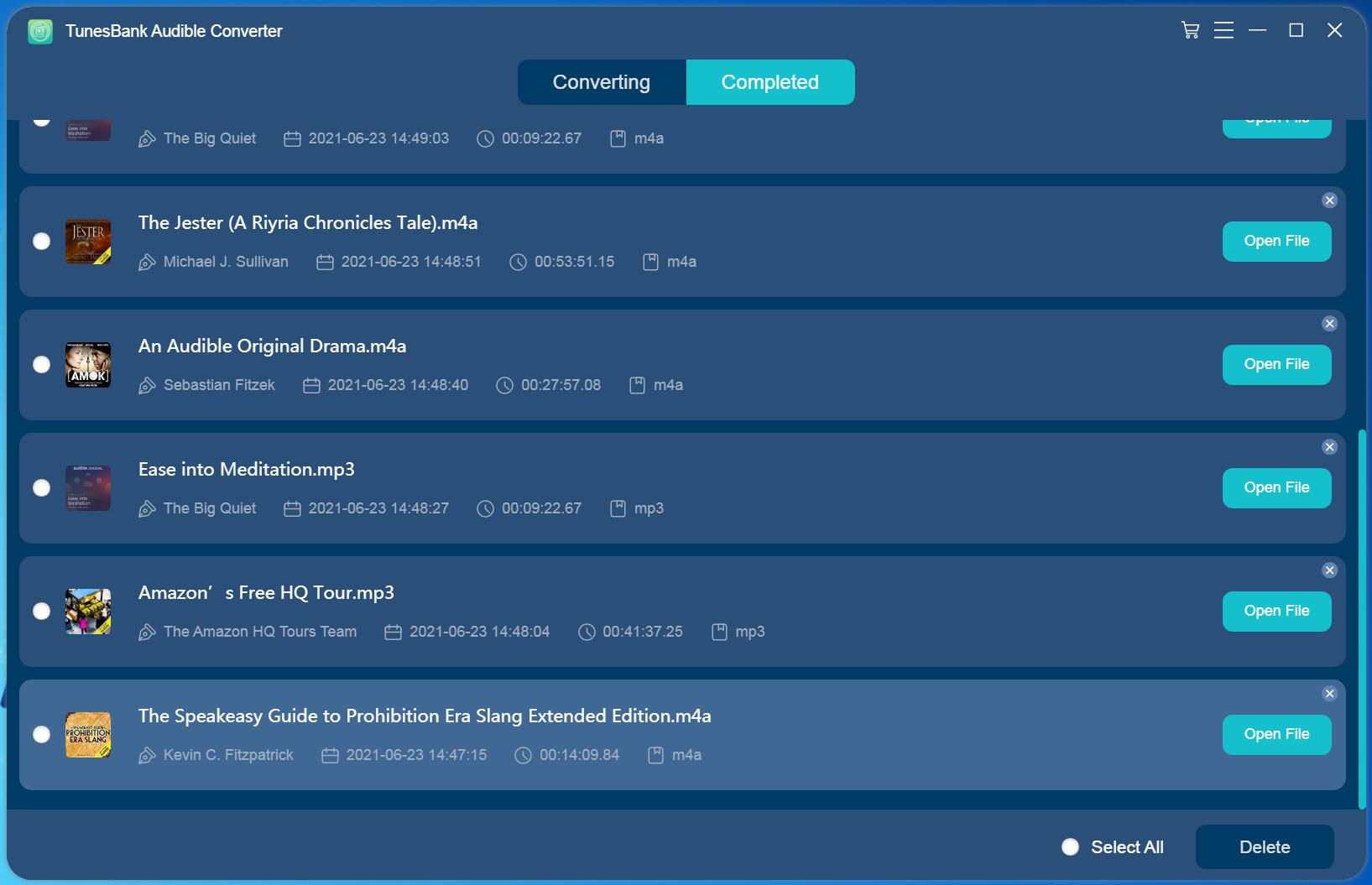 Step 7. Stream Audible Audiobooks on Roku
Now you have already got the converted Audible audiobook MP3 file that is compatible with Roku, to play Audible on Roku, you just need to transfer the converted files to a USB flash drive and plug into your Roku's USB port or move them on a media server on your local network, then launch the Roku Media Player and browse to play the converted audiobook file freely.
Conclusion
To play Audible audiobooks on Roku, you can mirror your mobile phone screen to Roku, o ryou can convert Audible audiobooks to MP3 or other formats that's compatible with Roku. The second method is much easier and more convenient then mirroring your mobile phone to Roku, and also with TunesBank Audible Converter, you can play Audible audiobooks on any unauthorized device without restrictions.