Summary
This page will show you the causes lead to Audible keeps crashing, provides top 5 ways with you to fix it to normal. So that you are able to play Audible books smoothly and get good listening experience while using Audible app.
"I upgraded my iPhone to iOS 16, then the Audible app got crashed on my device. It drive me crazy. How to fix it to normal? Any simple ways for beginner?"
In these years, listen to audiobooks has became more and more popular. People used to listen to audiobooks with Audible app. As one of the most popular audiobook services in the world, Audible brings users an enjoyable experience. Audible has launched different version meet users, like Audible for Android, Audible for iOS, Audible for Windows 10, and Audible desktop for users to play Audible books. However, nothing is perfect. A crashing problem has happened to Audible users while listening to Audible books. There are many users who complained that they are getting Audible abnormal issues. In the follow sections we will explore the possible causes and show you the top 4 solutions for stopping it. More importantly, you will get an ultimate solution to avoid the Audible crashing again.
Part 1. Possible Causes to Get Crashing on Audible
It is highly recommended that get the possible causes that lead to Audible app get crashing before moving on the particular solutions to the issue. Here are several reasons of stay crashing on Audible we listed below for your reference.
A.System error. If there is an error in the system on your iOS device or Android device, it can cause this Audible crashing issue happen.
B.Unstable Internet connection. The Audible app demands the Internet connection be stable for it to work properly, and this is particularly important if you want to stream audiobooks online.
C.Lack of Storage. Sometimes, media app need to stay enough storage for running, mobile devices need a certain amount of free space to operate programs properly. You may have issues with the Audible app keeps crashing on Android/iPhone if the storage space on your smartphone is full.
D.Bug of Audible app. Sometimes there are unknown bugs with the Audible app, which make it difficult to run Audible smoothly.
Part 2. Top 4 Solutions for Stopping Audible keeps Crashing
In this section we will show you the top 4 solutions for stopping Audible keeps crashing.
1.Update iOS/Android System on Your Device
The Audible app crashing issue might be caused by an outdated system version on your device. As a result, you must keep your device update with the latest version of system.
On iOS:
Step 1. To begin, go to "Settings" and choose "General".
Step 2. "Software Update" is located at the bottom of the "General" section.
Step 3. If there are any accessible updates, download and install them if necessary.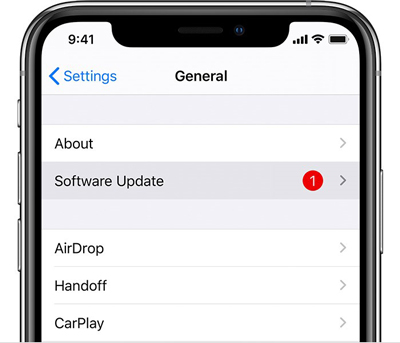 On Android:
Step 1. Go to "Settings" > "Advanced" and click "System" from the main menu.
Step 2. Select "System Update" from the "System" menu to see if any software updates are available.
Step 3. Make sure to download and install any available updates.
2.Check Internet connection
Check the Internet connection on your device, switch to the mobile Internet or connect to Wi-Fi Internet, make the Internet connection keeping stable. Then see if the Audible keeps crashing issue be fixed or not.
3. Check the Storage of Your Device
For an app to perform efficiently, it need to keep enough storage space on your device. Make sure your device has adequate storage space before you listen to Audible books. For maximum the performance of Audible app, you are suggested to get at least 1GB of free space on your device. You can check the free space on your device by clicking "Settings" then "Storage" option.
4.Delete and Install Audible App Again
The problem of Audible app keeps crashing may be due to a bug in the Audible app itself, try delete and install it again. You need to note that once you remove the Audible app, the previous data and downloaded audiobooks will be disappear and you need to download and access them again.
Part 3. An Ultimate Solution to Fix Audible Keeps Crashing
If you have try these top 4 ways above and didn't fix Audible abnormal issue, just focus on the ultimate solution. It can truly help you stop crashing on Audible, and avoid the Audible crashing again. That's to use the TunesBank Audible Converter to download and save Audible books to the computer. Then you can enjoy Audible audiobooks on other players without Audible keeps crashing issue.
In reality, the Audible books are protected by digital rights and they can't be used on other devices without Audible warrant. It means that you can only play Audible books with iTunes app or Audible app. TunesBank Audible Converter is the best Audible Converter meet your needs to converting Audible books to MP3, so that you can offline playback Audible books on any devices without worrying about the Audible app crashes issue any longer.
TunesBank Audible Converter is developed for downloading Audible books to the computer as local files with lossless audio quality in 700X faster conversion speed. Meanwhile, convert AAX/AA Audible books to MP3, M4A, M4B, FLAC, AC3, AAC, OGG, AIFF, WAV with chapters & ID3 tags preserved. After that, you are allowed to keep Audible books forever without subscription, listen to audiobooks without Audible account authorization. What's more, you are able to play Audible books on any devices offline, like MP3 player, smartwatch, USB flash drive, SD card, smartphone, tablet, PSP, Xbox, etc,. Also, this powerful tool allows you to split audiobooks by chapters, by time, or by others; for better audiobooks management.
Features of TunesBank Audible Converter
Download Audible books to the computer
Download Audible books for avoiding Audible app crashing issue
Download Audible books with lossless audio quality
Download Audible books with 700X faster speed
Convert AAX/AA Audible books to MP3, M4A or more formats
Convert Audible books with chapters & ID3 tags preserved
Keep Audible books forever even without subscription
Listen to audiobooks without Audible account authorization
Play Audible books on any devices offline
Split audiobooks by chapters, by time, or by others
How to Download Audible Books to the Computer
Step 1. Download Audible AAX/AA Audiobooks to Computer
Download your purchased Audible books from Audible.com to the computer, and they will be saved in AAX or AA format.
Step 2. Import Audible AAX/AA Audiobooks to TunesBank
Launch TunesBank Audible Converter, simply drag and drop the downloaded Audible books files to the home page. Also you can click the icon in the home page to manually add the audiobooks you want to download.
Step 3. Select Output Format
In this step you can select output format for the Audible books. Select the desired format in the "Output Format" option next to each book. You can also change the output path at the bottom left corner of the page.
Step 4. Adjust Output Settings
Choose "Output Settings" from the settings menu in the upper right corner. There will be pop-up a new window, in which you can adjust the Output Format, Sample Rate, Bitrate as needed.
Step 5. Split Audiobooks and Edit ID3 tags
This is an option step. TunesBank allows you to convert Audible books with chapter kept, also lets you split audiobooks to small parts by chapter, or time.
You can click on the "Edit" icon near to each book. to edit the ID3 tags and metadata like book cover, title, artist, album, etc.,
Step 6. Download and Convert Audible Books to MP3
When all the settings are done, hit on the "Convert All" button to start downloading and converting AAX/AA audiobooks to MP3 or other formats with lossless audio quality.
Step 7. Get Downloaded Audible Books Files
Once the downloading finishes, go to the "Completed" section to get all the conversion history.
Click on the "Open File" to find all the converted Audible books, which preserved with all chapter and ID3 Tags.
Now, you will never worry about the Audible app crashes issue any longer.
Conclusion
You now have all top 5 solutions to fix the Audible app crashing on iPhone/Android issue. A great solution to download and convert Audible books for offline playing on any devices has been provided. From now on, you don't have to worry about your Audible keeps crashing thanks to TunesBank Audible Converter. Listen to audiobooks without Audible account authorization and avoid Audible app being abnormal again.
Fix Audible Keeps Crashing