Summary
Audible's audiobooks use DRM-encrypted AA and AAX formats and can only be played on authorized devices. This article will teach you 2 ways to remove DRM from Audible AA and AAX Audiobooks and convert AA/AAX to DRM-free MP3, M4A format to be compatible with any MP3 players, iPod nano, Sony Walkman, PSP, etc.
Audible.com is a great place where we can download or purchase various audiobooks. However, when you transfer the downloaded Audible books to your MP3 player, iPod nano or other unauthorized devices, you will get in trouble. Now the question arises that why you need to remove DRM from Audible AA and AAX audiobooks. Because all the audiobooks you downloaded from Audible are in AA or AAX format protected by DRM, they cannot be copied to non-audible-approved devices. To solve this problem, the best way is to remove DRM from Audible and convert Audible AA and AAX Audiobooks to MP3, M4A or other unprotected audio formats.
Only in this way can you use Audible audiobooks more freely. To remove DRM protection from Audible AA/AAX audiobooks, you need to use a powerful Audible DRM Removal. Before learning how to break the DRM limitations of Audible books, let's first understand the benefits of doing so.
Part 1. Advantages of Removing DRM from Audible AA and AAX Audiobooks
Audible's DRM limits you to listen to Audible audiobooks on limited devices. As long as you remove Audible DRM, you can use audiobooks freely.
Save Audible Audiobooks on computer forever. Well, the downloaded Audible Audiobooks on Windows PC are in .aa format, while Mac version is in .aax format, both of them are encoded with DRM. Once you cancel the Audible Plus or Audible Premium Plus subscription, then downloaded Audible files wild be invalid. If you can unlock Audible DRM and save them as local files, then you can save them on your computer forever.
Listen to Audible Audiobooks on any device. After removing DRM protection from Audible, you can freely enjoy Audible books on any device, including MP3 player, iPod Nano, iPod Shuffle, iPod Classic, iPod Touch, SanDisk, Sony Walkman, iPhone, iPad, PSP, Xbox, Android, Zune, Creative Zen, Kindle, iRiver, etc.
Play Audible Audiobooks without the Audible app and network. If you can get rid of Audible DRM restriction, then you can play Audible audiobook on non-audible-approved devices without the Audible app and Internet connection or Wi-Fi.
Save Audible books to USB drive or SD card. Another advantage of removing Audible's DRM is that you can save DRM-free audiobooks to a USB drive, SD card, so that you can play them in the car player. It's so great that you can play Audible books in the car anytime!
Burn Audible Audiobooks to a CD/DVD. Once you get DRM-free Audible files, you can burn them into a CD or DVD on iTunes and Windows Media Player.
Upload Audible Audiobooks to OneDrive/Google Drive. Some audio books are several hours long and take up a lot of memory space. Don't worry, after removing the DRM protection from Audible and converting them to MP3, M4A audio files, you are able to upload them to your Google Drive, One Drive, etc., saving your time.
Part 2. Best Audible DRM Cracker: TunesBank Audible Converter
TunesBank Audible Converter is multifunctional Audible DRM Cracker and Audible Audiobook Converter which enables to remove DRM from Audible AA and AAX Audiobooks without iTunes and Audible authorization. By applying a unique technique, it is able to convert AA and AAX to MP3, M4A, FLAC and WAV format at 100X faster speed with zero quality loss. Even better, it retains the ID3 tags, metadata, and chapter information of Audible audiobooks in the output file, and allows you to edit ID3 tags, such as book covers, artists, albums, etc., before conversion. With its built-in split function, you can freely split the big audiobooks into small parts by chapter, time frame or into segments averagely.
Great Features of TunesBank Audible Converter:
No need to install iTunes app nor authorize Audible account.
Legally strip DRM from Audible AA and AAX audiobooks.
Convert AA, AAX to DRM-free M4A, MP3, FLAC, WAV losslessly.
Remain 100% original quality and customize output quality.
Keep and fix ID3 tags and metadata info of Audible audiobooks.
Split the single Audible book into multiple parts with ease.
Just drag & drop the AA/AAX audiobooks into the software interface.
Works on both Windows OS and macOS, including macOS Big Sur 11.4.
Step-by-step: Remove DRM from Audible AA and AAX Audiobooks
Step 1. Run TunesBank Audible Converter on Mac/PC
Click the "Download" button above, then install and launch it. As shown below, it offers a simple and clean interface.
Step 2. Add Audible AA and AAX Files to TunesBank
Simple drag the downloaded AA/AAX files from the local folder, and drop it to TunesBank interface.
Well, you can also click the icon of the interface to add multiple audiobooks at once.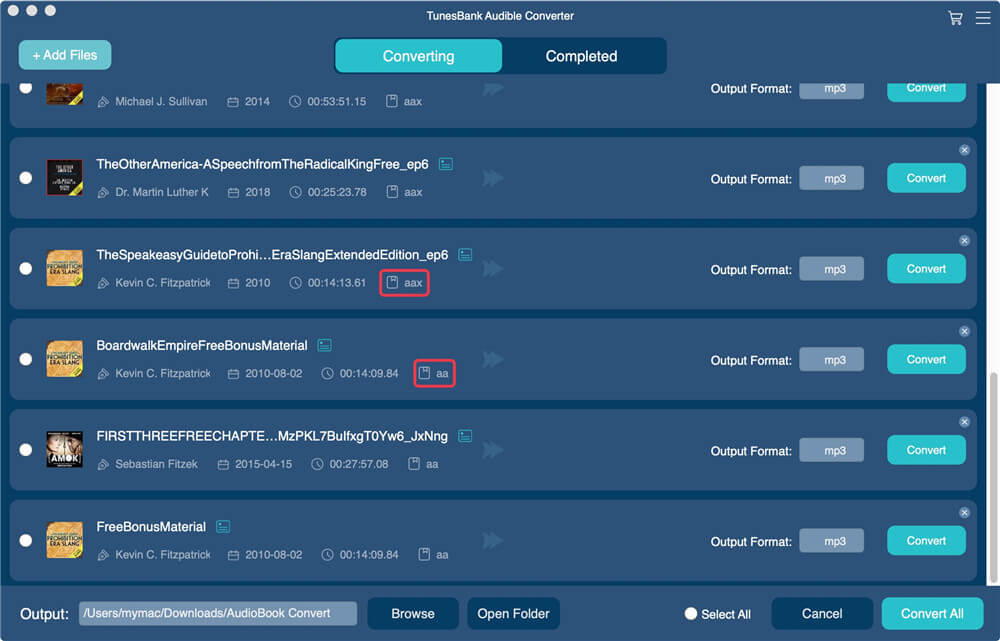 Step 3. Adjust Output Format
After successfully importing audiobooks, you can see that the output format can be set separately next to each audiobook. Yes, TunesBank allows you to set a different format for each audiobook!
Choose "Output Setting" from the menu bar. Here you can adjust the Output Format (MP3, M4A, FLAC, WAV), SampleRate (up to 48,000Hz), Bitrate (up to 320kbps), or split the audiobooks as needed. MP3 is compatible with any device and player, you can pick it.
Step 4. Start Removing DRM from AA and AAX Audiobooks
When everything is ready, just hit on the "Convert All" button to let the tool remove DRM lock from Audible audiobooks and convert the AA/AAX files to DRM-free MP3 format losslessly.
Now you can go to the "Completed" section, click the "Open File" to view the non-DRM Audible MP3 books.
By using this excellent tool, you can easily listen to Audible books on any MP3 player, iPos, Sony Walkman, Kindle, iRiver, smartphone, etc., anytime, anywhere!
Part 3. Powerful DRM Removal for Audible AA and AAX Audiobooks
TunesBank Apple Music Converter stands out among all the tools with its excellent performance. It is a powerful Audible DRM Removal, as well as a great Audible Audiobook Converter. With using it, you can not only remove DRM from Audible Audiobooks, but also convert the AA/AAX audiobooks to MP3, M4A, AC3, AIFF, AU, FLAC audio formats at up to up to 16X speed. What's more, the original audio quality, chapters, ID3 tags and metadata will be well kept in the output files.
Apart from this, it also supports to remove DRM from iTunes M4B audiobooks, iTunes purchased M4P music, Apple Music and convert them to DRM-free MP3, M4A, FLAC format with lossless quality. So that you can enjoy them on any your MP3 player, iPod nano, PSP, Xbox, iPhone, Android and more devices without limits.
Highlights of TunesBank Audible Audiobook Converter:
Remove DRM from protection Audible/ iTunes Audiobooks.
Remove DRM from Apple Music, iTunes purchased songs.
Convert AA/AAX audiobook to MP3, M4A, AC3, AIFF, AU, FLAC, etc.
Convert iTunes Audiobooks/music, Apple Music to MP3, M4A, FLAC.
Preserve the original audio quality of the Audible Audiobooks.
Keep chapters, ID3 tags, metadata like title, artist, genre, year, etc.
Supports batch conversion, and up to 100X super faster speed.
Enjoy Audible Audiobook on any device without Audible app and network.
Highly compatible with Windows, Mac system, the latest iTunes version.
Guide: How to Remove DRM from AA/AAX Audiobooks?
Here is the detailed guide on how to use TunesBank software to strip DRM from Audible books and convert them into DRM-free audio files.
Step 1. Add AA/ AAX Audiobooks to iTunes
Launch iTunes on your computer, create a new playlist named "Audible Audiobooks", then drag and drop the downloaded AA or AAX audiobooks to the new created playlist.
Next, authorize your Audible account. Select "Account" > "Authorization" > "Authorize Audible Account". When finished, exit iTunes app.
Step 2. Run TunesBank Audible Audiobook Converter
Now, download and install TunesBank Audible Audiobook Converter on your Mac or Windows computer. When you run the TunesBank program, iTunes app will run with it. As you can see, it will automatically load all the iTunes contents, including the Audiobooks.
Step 3. Add Audible Audiobooks
Tap on the "Audiobooks" or "Audible Audiobooks" in the left panel, then all the audiobooks will be shown in the right section. Pick the target Audible books you want to delete the DRM.
Step 4. Change Output Settings
Now you move to the bottom of the interface to change the basic parameters, including Output format, Output Quality, Output Folder, Bitrate (up to 320kbps), Sample Rate, etc.
Step 5. Start Removing DRM from Audible Audiobooks
Hit on the "Convert" button to begin to remove DRM protection from Audible AA/AAX Audiobooks and convert them to DRM-free MP3, M4A or other format losslessly. Then conversion speed can reach 100 times, just wait a few seconds.
After that, you can go to "Finished" section, click "Open Folder" to find the non-DRM Audible Audiobooks.
Now that DRM is completely gone, you can transfer them to any media player and device to play all these audiobook files without limitation.
Part 4. Everything You Should Know About Audible.com
Audible is the biggest and most famous producers and provider worldwide, owned by Amazon.com Inc. It offers users more than 200,000 book titles, everyone can easily find their interesting books there. When schools were closed during the coronavirus crisis in early 2020, Audible provided help with hundreds of books completely free. You can easily get free Audible books through Audible's website, including free Audiobooks, free Sleep and Meditation Listens, free Kids Stories, free Podcasts, free Audible Interview Sessions, etc. You can refer to this post to get free Audiobooks from Audible. Digression, have you listened to the top 10 audiobooks on Audible.com 2021? For me, I like The Art of War by Sun Tzu most, which is narrated by Aiden Gillen (Audible Studios).
It is worth mentioning that Audible offers 30 days free trial for new users. With it, you can buy audiobooks for free, and download them to audible-approved devices for offline listening to. After the free trial expired, you can continue your member ship subscription. Audible offers two main types of memberships: Audible Plus (costs $7.95 per mon) and Audible Premium Plus (costs $14.95 per mon).
Can you play Audible audiobooks on any device? Of course not. Due to DRM lock, not all devices support the playback of Audible audiobooks, you can only play DRM-ed Audible AA/AAX audiobooks through Audible app on iOS devices, Android devices, Windows Phone, Audible Cloud Player, iTunes app (on Mac & PC), Book app (MacOS 10.15 Catalina), Audible Download Manager, MP3 players and some devices compatible with the Audible file format. etc.
Most people prefer to listen to Audible books on their Kindle device, are you? Does Audible work on all Kindle devices? of course not. No worry, I've listed here all Kindle devices that are compatible with audiobooks, including: Kindle 1st Generation, Kindle 2nd Generation, Kindle Keyboard (3rd Gen), Kindle Touch (4th Gen), Kindle (8th Gen), Kindle Oasis (8th Gen), Kindle Oasis (9th Gen), Kindle Paperwhite 4, All-New Kindle Oasis 2 (9th Gen), Kindle DX (2nd Gen), Kindle Fire (1st &2nd Gen), Kindle Fire HD (2nd & 3rd Gen), Kindle Fire HDX (3rd Gen), Fire HDX (4th Gen), Fire HD (4th, 5th, & 6th Gen), Fire (5th Gen).
If you are using Kindle Paperwhite (7th Gen), Kindle (7th Gen) or Kindle Voyage (7th Gen) or other incompatible devices like MP3 player, iPod Nano, etc., to play Audible AA/AAX audiobooks on them, you can use TunesBank Audible Converter to remove DRM protection from Audible AA and AAX audiobooks.
The Bottom Line
Have we have shared you something about Audible.com and 2 best Audible DRM Removal software. To get rid of DRM lock from Audible AA and AAX audiobooks, TunesBank Audible Converter is a must-have tool. With its outstanding functions and super fast speed, TunesBank Audible Converter is the most easy-to-use and fastest Audible DRM converter on the market. You can click the "Download" button above to have a try! Also, TunesBank Apple Music Converter is a great tool to remove DRM from Audible audiobooks, iTunes audiobooks, Apple Music and iTunes music. If you like this post, please share to your Facebook or Instagram. If you have any better ideas to remove DRM from Audible AA or AAX books, please leave your comments!
Remove DRM from Audible AA and AAX Audiobooks