Summary
Want to cast Audible audiobooks to Chromecast? Read this guild, you will learn two ways to cast Audible to Chromecast, respectively on Android or playing Audible to Chromecast on any device.
"Can you listen to Audible on Chromecast? I would like to cast Audible to Chromecast via smartphone or Chrome on my computer. Or can I play Audible on more devices?"
Chromecast is such an amazing device for streaming music, movies, TV shows to your phone, tablet and computer from many different apps, such as Spotify, Google Play Music, Tidal, Netflix, Hulu and so on. It is always the most convenient tool to enjoy high quality music and video ever. However, if you want to listen to Audible via Chromecast, you will be surprising to find that Audible is not on the Chromecast list, so does it mean you can not play Audible books on Chromecast? Not really, we will offer 2 ways to cast Audible on Chromecast, one is for Android users, and the other one is for all users.
Part 1. How to Cast Audible to Chromecast from Android Devices
To cast Audible on Chromecast on Android phone, make sure you have all these tool ready: Google Home app, Audible app, Chromecast, Android phone. Then follow the steps to stram Audible files on Chromecast on Android.
Step 1. Connect Chromecast device into your speaker.
Step 2. Make sure Chromecast, speaker and the android phone are connected to the same WiFi network.
Step 3. Download the Google Home app on your Android phone, launch it and it will detect the Chromecast device.
Step 4. On the side menu of the app, tap on the Cast Screen/Audio button. Then select the casting speaker you want to play the audio.
Step 5. Open Audible on your Android and play the Audible book, then it will automatically play audiobooks on your Chromecast device.
https://www.tunesbank.com/wp-content/uploads/2023/01/google-home-app.jpg
Pros:
It is easy to operate.
It is free.
Cons:
Only available for Android users.
Need to download few apps on phone.
However, this method only works for Android phone users, it does not work for iOS or other third party casting apps, because the Audible AA/AAX files are protected and they can't be recognized on unauthorized devices.
Part 2. How to Play Audible to Chromecast on Any Device
It's known that Audible audiobooks are encrypted in AA/AAX format, these audiobooks can only be played on Audible supported devices. However, Chromecast does not support Audible, so if you want to cast Audible on Chromecast, you need to remove the DRM protection from AA/AAX audiobooks first. In this case, you need an Audible audiobook converter to solve this issue. With the help of the tool, you can convert Audible to compatible format with Chromecast, so that you can easily cast Audible to Chromecast.
Tool Required – Tunesbank Audible Converter
TunesBank Audible Converter is a useful tool which is able to easily break the restriction from Audible audiobooks, and convert Audible AA/AAX audiobooks to MP3, M4A, AAC, FLAC and more more formats without any quality lossless. You can easily convert your favorite audiobooks to MP3 and saved on your computer as local file, so that you can add the converted files to Chromecast casting apps and cast Audible books from these apps to the TV or speaker. More amazing features are introduced as following.
Amazing Features of TunesBank Audible Converter
Download Audible Audiobooks to Computer Directly:
TunesBank Audible Converter is able to directly convert Audible books to MP3 or other formats on computer and can be saved on your computer forever. So that you can transfer the converted audiobooks to other players for offline playback, or you can backup audiobooks to SD card and USB flash drive.
Convert Audible AA/AAX Audibooks to MP3:
TunesBank is such a excellent AA/AAX to MP3 converter, you can convert AA/AAX audiobooks to MP3 and various formats, such as M4A, AAC, FLAC and more, so that you can freely enjoy Audible audiobooks on any device.
Remove DRM from Audible:
TunesBank is designed to remove DRM from Audible audiobook, and convert Audible AA/AAX audiobooks to unprotected file, so that you can offline listen to your favourite audiobooks on any device freely.
100X Faster Conversion Speed:
TunesBank converts Audible to MP3 at a very fast performance speed up to 100X, you can convert a 2 hour book in less than a minute.
Preserve ID3 Tags and Chapters
TunesBank is able to retain ID3 tags and chapters info of the audiobook after conversion, such as Title, Author, Artist, Cover Pictures, Genre, etc.
Listen to Your Audible Audiobooks Freely:
You can transfer the converted audiobooks to other unauthorized devices for offline playing freely, devices like iPhone, MP3 players, Android devices, Sony Walkman, SanDisk, iRiver, etc. You can also burn the audiobooks to CD for backup, and even share your audiobooks with your friends.
Tutorial: How to Convert Audible AA/AAX Audiobook to MP3
TunesBank Audible Converter is able to convert Audible audiobooks without installing iTunes and Audible account authorization. Download the latest version of TunesBank Audible Converter and install it to your computer, then follow the steps.
Step 1. Download Audible AAX/AA Audiobooks to Computer
Download your purchased Audible audiobooks from Audible.com to your computer, all the downloaded files should be in the formats of AA/AAX.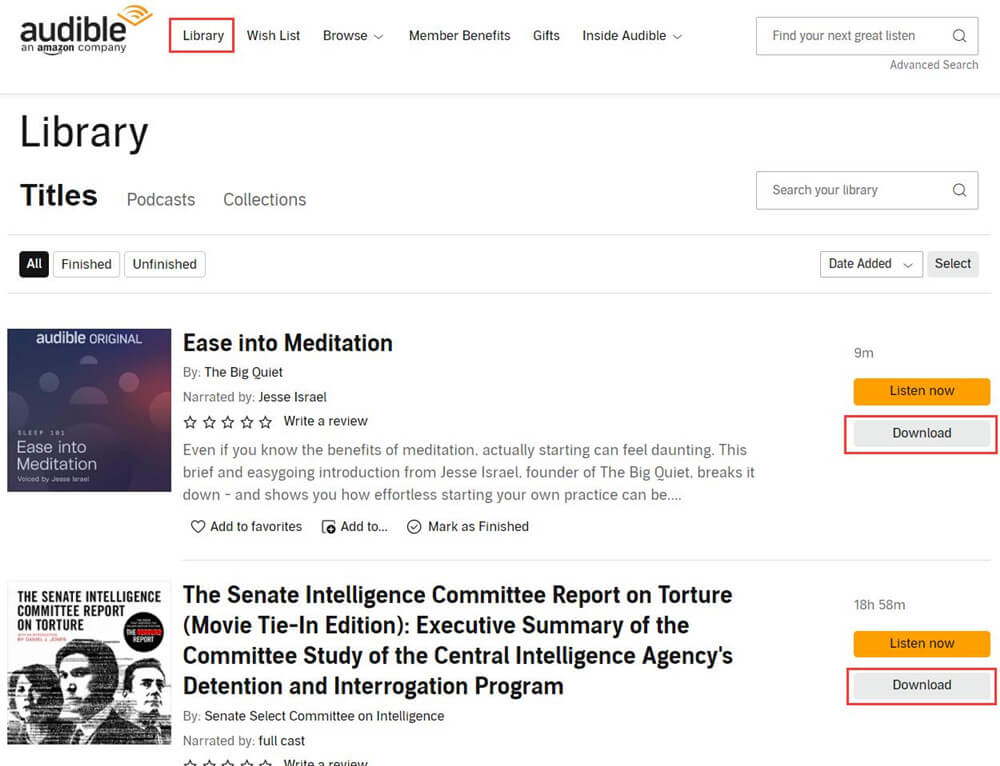 Step 2. Import Audible AAX/AA Audiobooks to TunesBank
Launch TunesBank Audible Converter and add audiobooks to TunesBank, there are 2 ways to import aduiobooks to TunesBank, you can directly drag and drop the downloaded AA/AAX files to TunesBank main interface.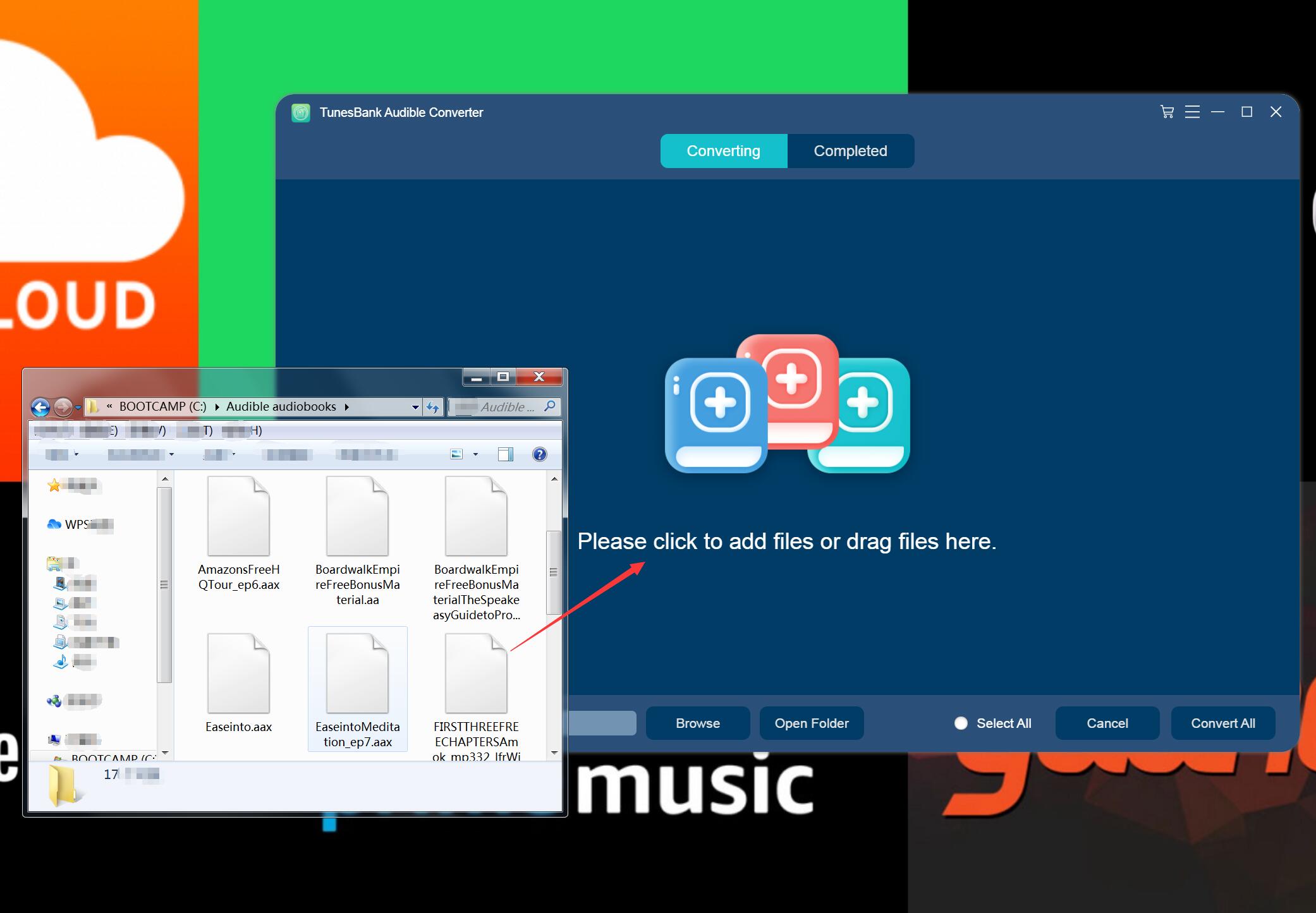 Or you can click 'Add File' on the main interface to add the AA/AAX audiobooks that you want to convert. You can add as many Audible files as you like since TunesBank supports batch converting.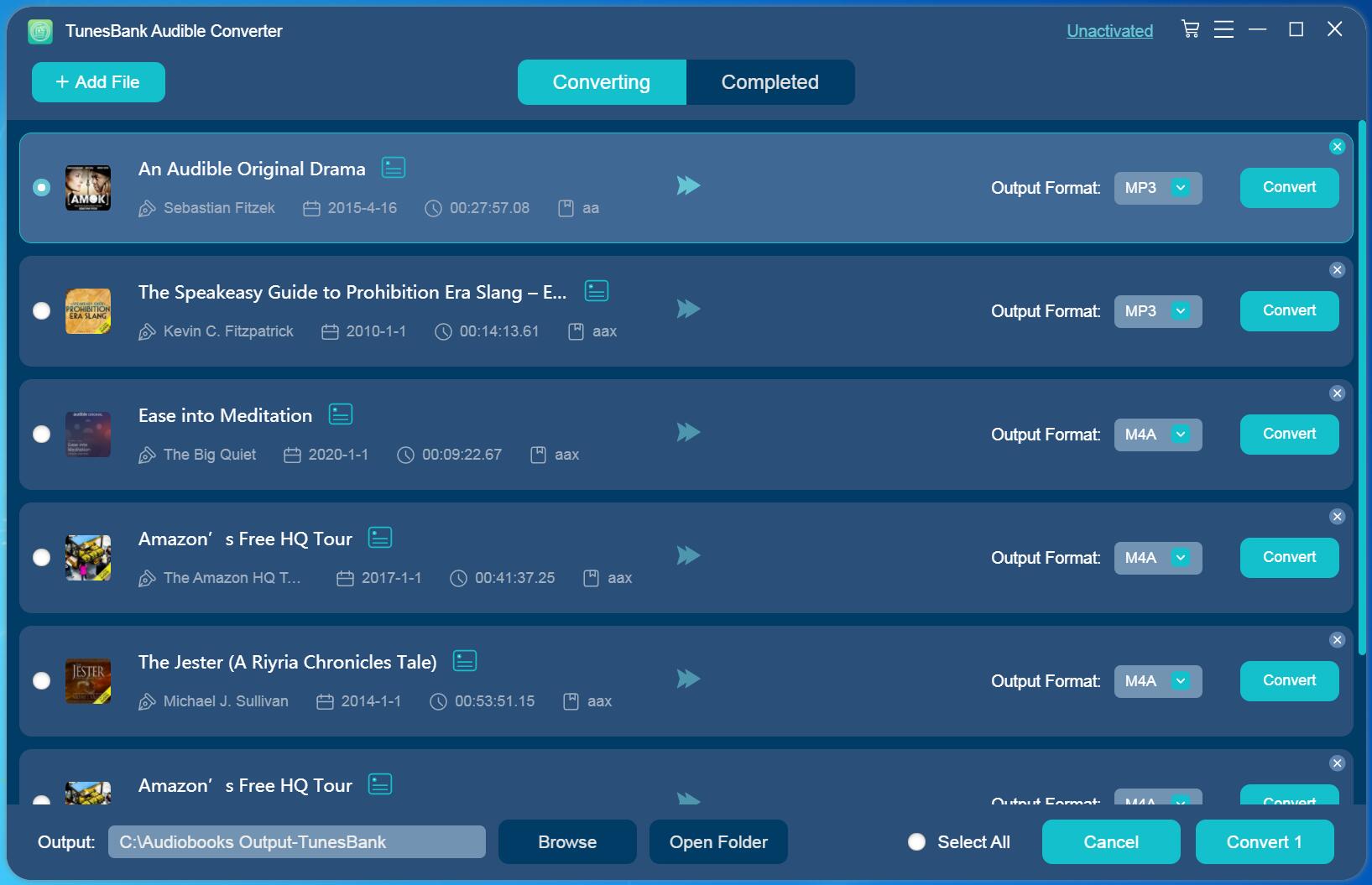 Step 3. Select Output Format
You can choose different format for each output audiobook. There are various types of output audio formats you can choose from, including MP3, M4A, WAV, FLAC, etc. You can also set the output path at the bottom left corner of the interface.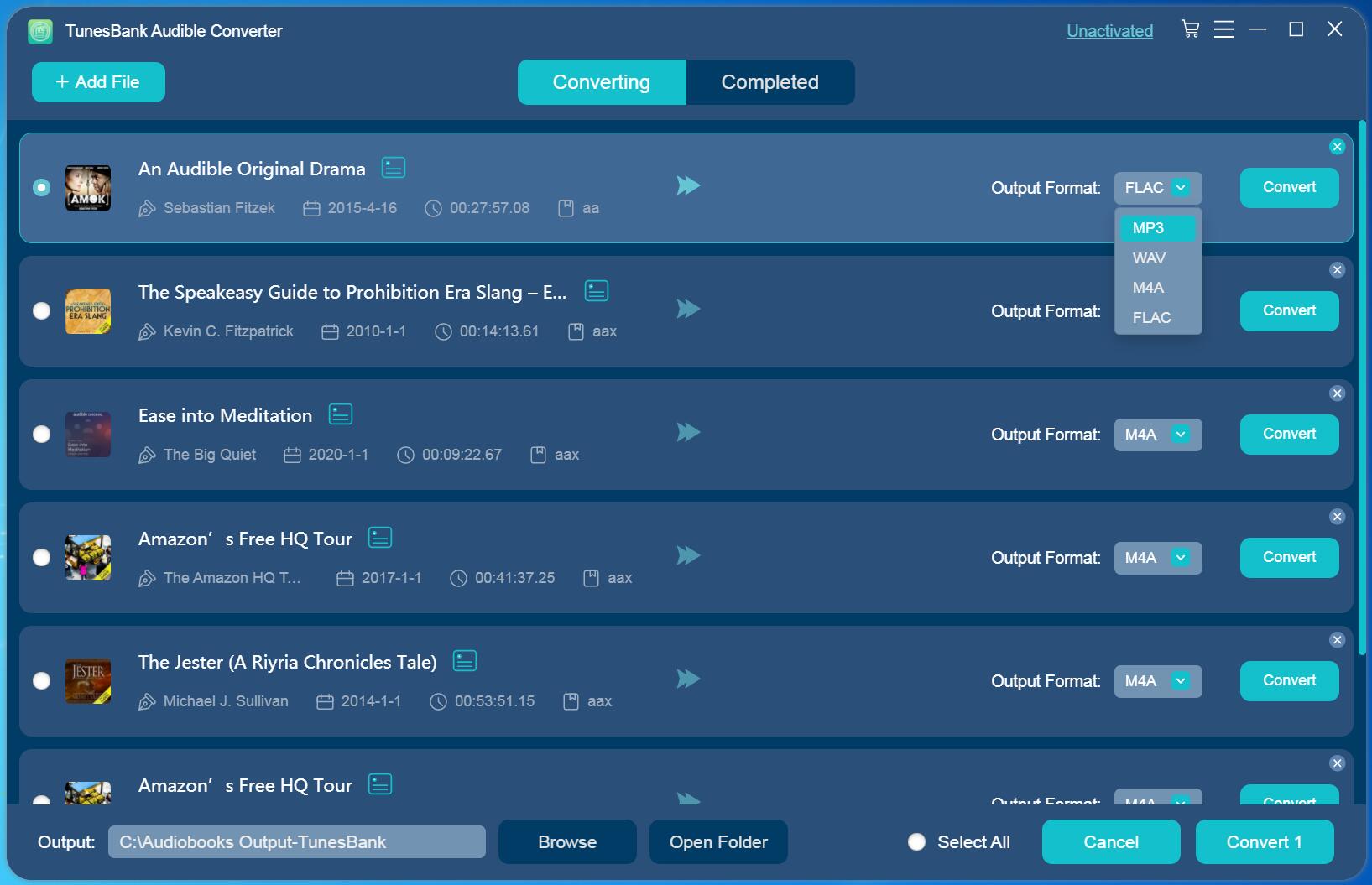 Step 4. Setup Output Preferences
You can also customize the output quality and other parameters, just click "Output Settings" form the settings menu on the upper right corner. In the preferences window, you can adjust Output Format, Sample Rate and Bitrate.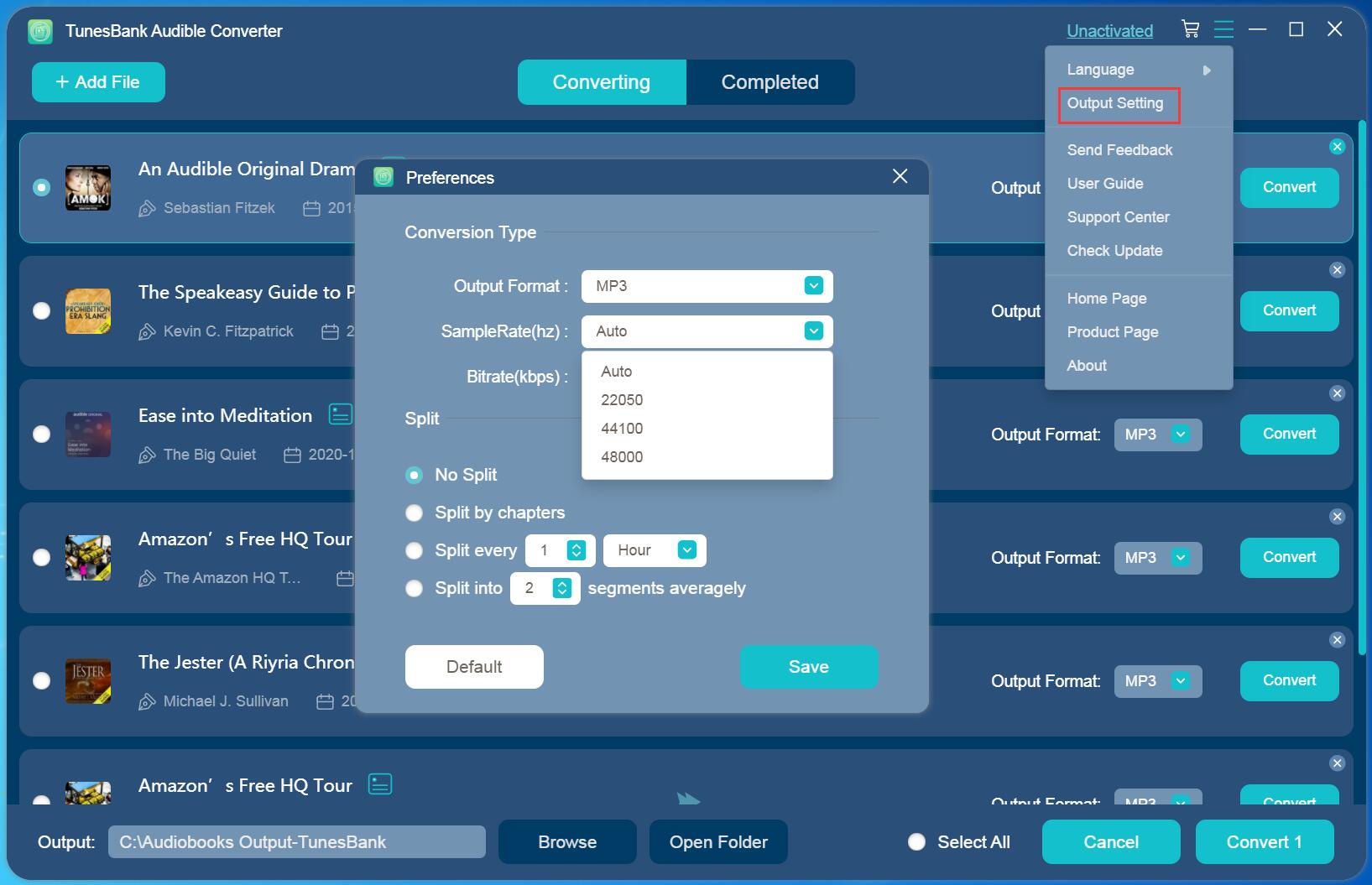 Step 5. Start Converting Audible AAX/AA Files to MP3
After you have done the above settings, click on the "Convert All" button to start converting AAX/AA audiobooks to MP3 audios format lossless at 100X conversion speed.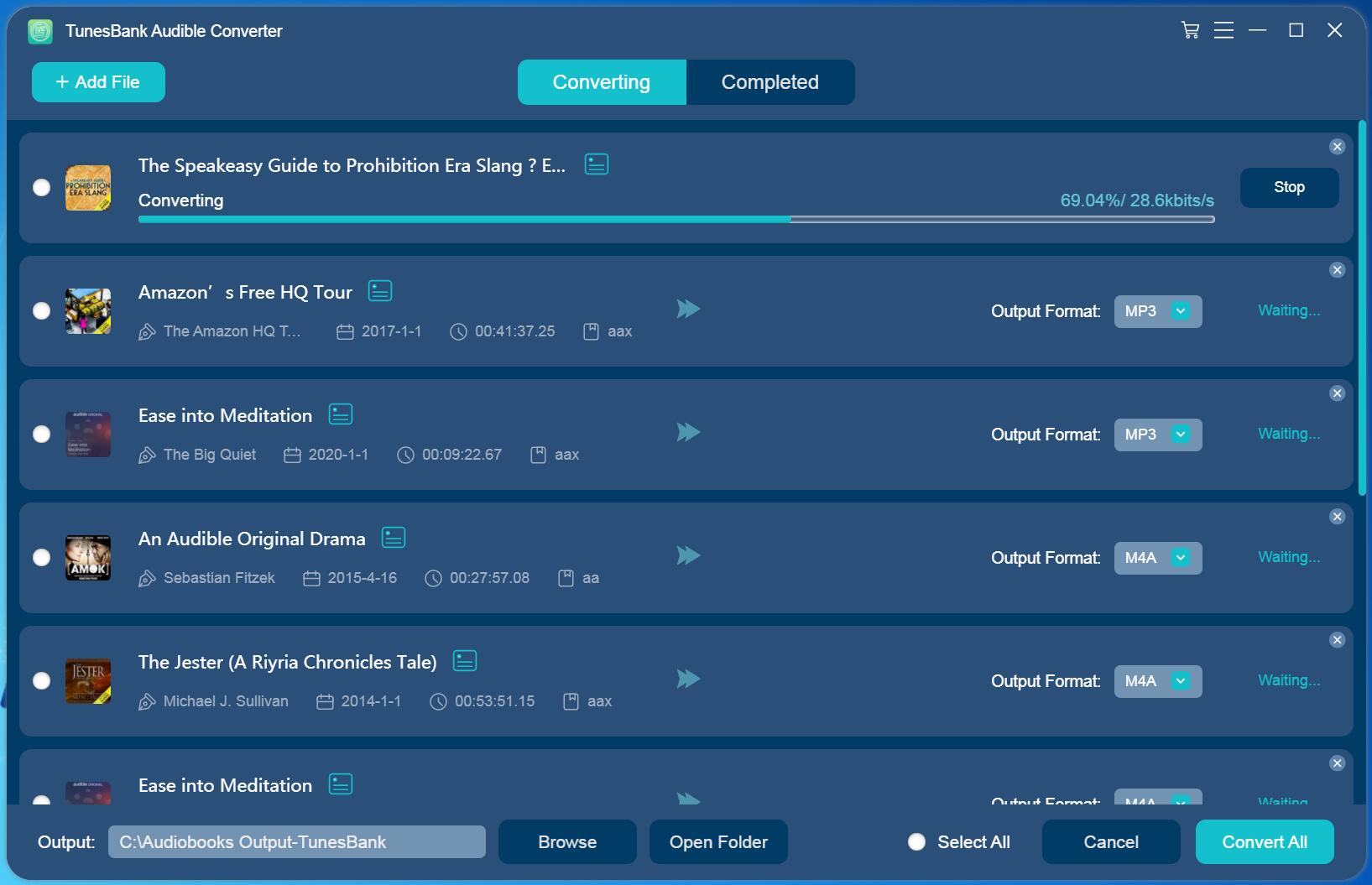 Step 6. View Converted Audible Files
Once completed, go to the "Completed" section to view all the conversion history. Then click "Open File" to view the converted Audible books.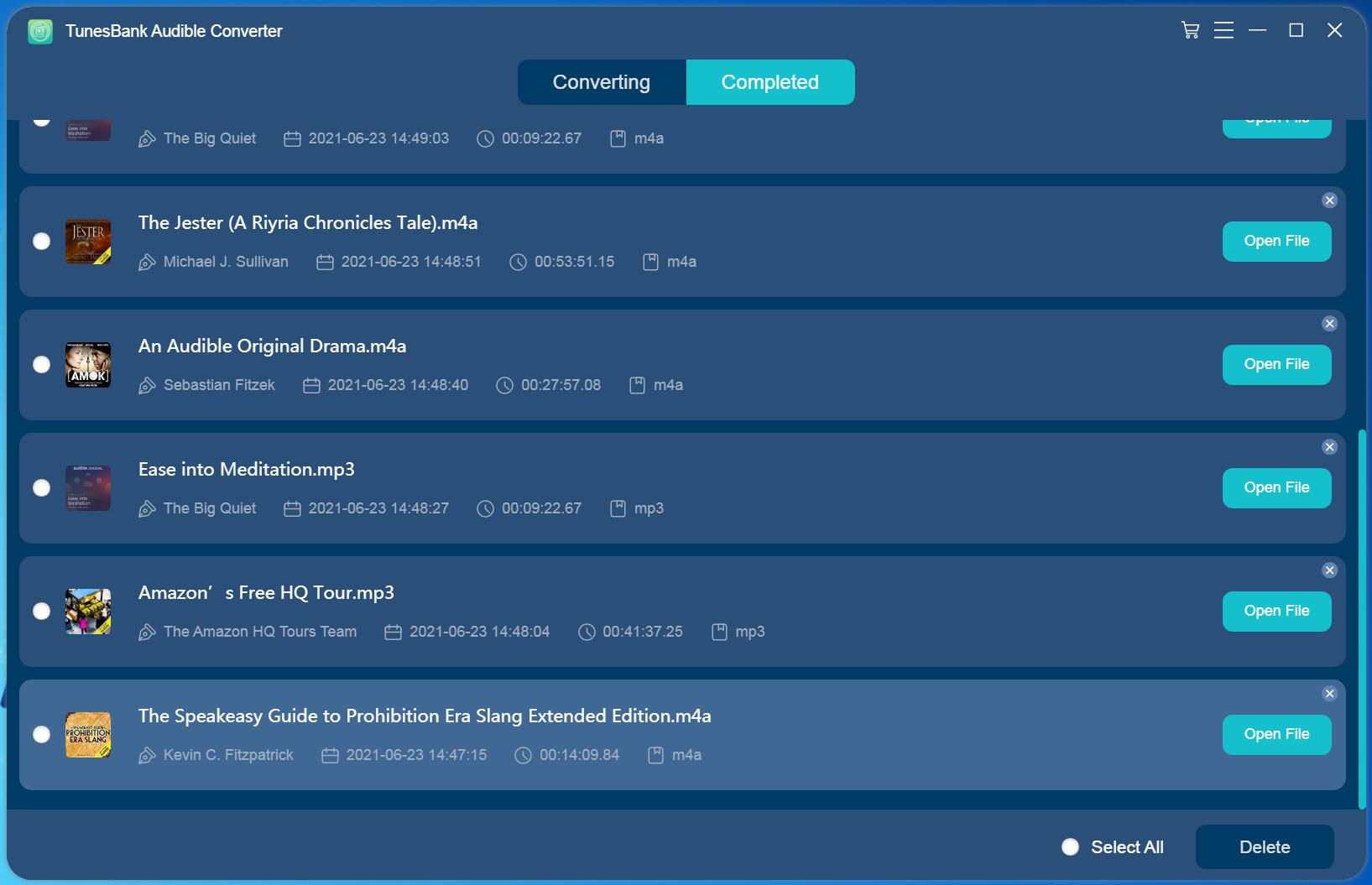 Now you can transfer the converted Audible audiobooks to the Chromecast casting apps like Google Play Music, Google Home, etc. then cast Audible books from these apps to the TV or speaker.
Pros:
Support any device.
Safe and Easy.
Can play Audible audiobooks on any other devices or player.
Cons:
The converter is only for Windows and Mac.
Conclusion
2 effective ways are introduced to play Audible on Chromecast. And also the pros and cons of these 2 ways are listed, you can choose the one that suits you the most. But we highly recommend using TunesBank Audible Converter, with its help, you can convert Audible audiobooks to MP3 and play on any device without any restrictions.
Play Audible Books on Tesla