Summary
Wondering how to watch Apple TV on Android devices? In this article, you'll discover two official methods to access Apple TV on Android – through the Apple TV app and a mobile browser. Additionally, you will learn to download Apple TV video on local computer and watch them offline using a third-praty tool.
Apple is known for its closed ecosystem, but there are exceptions like Apple TV. While Apple usually prefers users to stick with its hardware and software, Apple TV is available to those outside the Apple ecosystem, albeit with some restrictions. Interested in watching Apple TV on Android? Wondering if there's an Apple TV app for Android phones, tablets, and TVs? Read on for a guide on how to get Apple TV on your Android devices.
Part 1. What is Apple TV?
Apple TV is both a streaming device and a separate app. The hardware connects to your TV, letting you access various apps through Wi-Fi. The Apple TV app, independent of the device, organizes different streaming services in one place for easy searching and integration. To use Apple TV, you only need a free Apple ID for login, and you don't need to have an Apple device.
Part 2. How to Get Apple TV App on Android Device
You can get the Apple TV app from the Google Play Store, but it only works on Android TV devices. Still, it's compatible with various non-Apple TVs and streaming boxes like Google TV, Roku, Fire TV, LG, Samsung, Sony, and more. If your device supports it, you can use Apple's AirPlay to show Apple TV content on your smart TV. For Apple TV Plus, which is different from Apple TV, it's part of the Apple TV service. To watch Apple TV Plus, sign up and pay $6.99 per month or consider Apple One, which starts at $16.95 monthly. Here are the steps to get Apple TV app on TVs.
Step 1. Go to the Google Play store.
Step 2. Search for "Apple TV".
Step 3. Install the app.
Step 4. Log in with your Apple ID.
Part 3. How to Watch Apple TV on Android Devices with Mobile Browser
Using Apple TV on your Android mobile device isn't optimal as there isn't a dedicated app. Instead, you'll need to visit the Apple TV website through your mobile browser.
Step 1. Open your preferred browser; we recommend Chrome.
Step 2. Type tv.apple.com in the address bar and press Enter.
Step 3. Click on "Sign In."
Step 4. Enter your email and select Continue.
Step 5. Decide if you want to Continue with Password or Sign in with iPhone, then follow the provided instructions to sign in. Then you're all set!
Part 4. How to Download & Transfer Apple TV+ Videos to Android
However, the Apple TV+ experience on Android does have some limitations:
Need stable internet connection.
The incapacity to download shows for later viewing.
Additionally, streaming on a mobile browser may lead to problems such as buffering and frame rate issues.
To bypass these limitations, the most effective approach is to download Apple TV videos in MP4 format on your computer and then transfer them to your Android device. This enables unrestricted viewing at any time. For this purpose, we recommend using a reliable Apple TV video downloader, such as TunesBank Apple TV+ Downloader.
Tool Required – TunesBank Apple TV+ Downlader
TunesBank Apple TV+ Downloader is a powerful tool designed to enhance your streaming experience. This software empowers users to download Apple TV+ videos, ensuring uninterrupted access to your favorite content without the limitations imposed by online streaming. With TunesBank Apple TV+ Downloader, you can easily download Apple TV+ videos to various formats such as MP4 and MKV, while preserving high quality for offline enjoyment on a variety of devices, including Android devices, PSP, MP4 player, etc. Say goodbye to restrictions and welcome a more flexible, personalized viewing experience with TunesBank Apple TV+ Downloader.
Key Features of TunesBank Apple TV+ Downloader
Universal Format Support
Download Apple TV+ content and convert it to commonly used formats like MP4 and MKV, ensuring compatibility with a wide range of devices and media players.
High-Definition Downloads
Download Apple TV+ videos in 720p resolution, providing users with a balance between video quality and file size for a smooth streaming experience.
Immersive Audio Experience
Download Apple TV+ content with Dolby Digital 5.1 surround sound, enhancing the audio quality and creating a more immersive viewing experience, particularly for users with home theater setups.
Multilingual Audio Tracks and Subtitles
Preserve and download multiple audio tracks and subtitles, allowing users to enjoy content in different languages or with accessibility features.
Permanent Storage
Save Apple Original films and series permanently without worrying about expiration dates, giving users the freedom to build a personal library of their favorite content.
Batch Download and Playlist Support
The ability to download multiple episodes, movies, or an entire season at once, as well as support for downloading entire playlists or collections.
Cross-Platform Compatibility
The ability to seamlessly work on both Windows and Mac operating systems, providing users with flexibility regardless of their preferred platform.
Guide: How to Download Apple TV+ video on Android Device
TunesBank Apple TV+ Downloader supports both Windows and Mac OS. To begin, simply click the 'Download' button above to acquire the installation package tailored for your computer.
Step 1. Run TunesBank Apple TV+ Downloader
Following the installation, open TunesBank Apple TV+ Video Downloader on your computer. Upon launching the program, sign in to your Apple TV+ account directly using the user interface.
Step 2. Search for Apple TV+ Video
Once you've signed in to your Apple TV+ account, enter the name of the show or movie you want into the search bar, and then click on the search icon.
Alternatively, you may copy the video link from the Apple TV+ website and paste it into the search bar. Subsequently, click the search icon to initiate the process of finding your desired TV shows and movies.
Step 3. Customize Output Settings
After adding the movie or TV show you want to download, select the settings icon to personalize your preferences. You have the flexibility to modify the video format (MP4 or MKV), codec (H264 or H265), preferred audio and subtitle languages, output folder, and other settings based on your requirements.
Step 4. Start to Download Apple TV+ Video
To initiate the download, simply click on the download icon next to your chosen TV show or movie. In the instance of a movie, click the download icon adjacent to it, and the download process will commence.
In the case of selecting a TV show, click the download icon next to it to choose the specific episodes you want to download.
Step 5. View Downloaded History
After the movie download finishes, go to the 'History' section to see all your downloaded items. Locate the downloaded files by clicking on the blue 'output folder' icon.
Now, you have the downloaded Apple TV+ video saved on your computer, you can start to transfer them to any Android device for offline watching without any hassles.
Conclusion
You can watch Apple TV on Android device with the official way, using the Apple TV app or using the mobile browser. But the best way to is to use TunesBank Apple TV+ Downloader, which allows you to download Apple TV+ video to MP4/MKV in HD quality, so that you can transfer them to any Android device for offline watching without limits.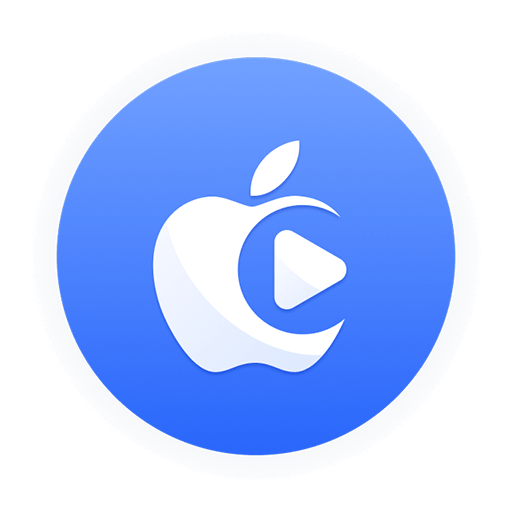 Apple TV+ Downloader
TunesBank is a fast, full-featured, safely, professional Apple TV Plus video downloading tool for you to download Apple TV+ shows, movies, originals, documentaries to MP4/MKV in high quality with AAC 2.0 audio tracks. Let's you watching them anywhere you want offline without Apple TV+ app or browser.